Threaded Rod Vibration Dampers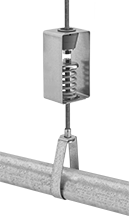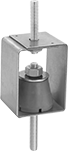 With Cushion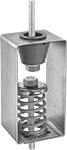 With Spring and Cushion
Install between two lengths of threaded rod to reduce vibration in suspended equipment, such as air-handling units, pipe, and duct. Hex nuts are required for installation.
Dampers with spring and cushion allow for greater deflection (the distance the damper compresses) than dampers with a cushion alone.
Note: Capacity is for damper only. Mounting surface and fastening hardware will affect the ultimate capacity.
For technical drawings and 3-D models, click on a part number.
For
Thread
Size

Cap.,




lbs.

Deflection
@

Max.


Capacity

Lg.

Wd.

Ht.

Thick.

Material
Cushion
Material
Threaded
Rod
Included
Mounting
Fasteners
Included

Temp.




Range,




°F

Each

With Cushion

3/8

"-16

75
0.4"
2

1/4

"
2"
3"

1/8

"
Zinc-Plated Steel
Rubber
No
No
-40° to 180°
00000000
000000

3/8

"-16

100
0.4"
2

1/4

"
2"
3"

1/8

"
Zinc-Plated Steel
Rubber
No
No
-40° to 180°
00000000
00000

5/8

"-11
550
0.5"
3"
2

1/4

"
4

1/2

"

1/8

"
Zinc-Plated Steel
Rubber
No
No
-40° to 180°
00000000
00000

With Spring and Cushion

3/8

"-16

75
1.09"
2

3/4

"
2

1/4

"
5

1/4

"

1/8

"
Zinc-Plated Steel
Rubber
No
No
-40° to 180°
0000000
00000

5/8

"-11
100
1.29"
3

1/4

"
3"
7"

1/8

"
Zinc-Plated Steel
Rubber
No
No
-40° to 180°
00000000
00000

5/8

"-11
150
1.44"
3

1/4

"
3"
7"

1/8

"
Zinc-Plated Steel
Rubber
No
No
-40° to 180°
00000000
00000

5/8

"-11
250
1.16"
3

1/4

"
3"
7"

1/8

"
Zinc-Plated Steel
Rubber
No
No
-40° to 180°
00000000
00000

5/8

"-11
350
1.24"
3

1/4

"
3"
7"

1/8

"
Zinc-Plated Steel
Rubber
No
No
-40° to 180°
00000000
00000