No-Gap

Flexible-Body

Cable Ties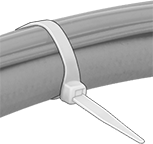 Solid Body
With a thin, flexible body, these cable ties fit tightly around irregularly shaped bundles.
Wide ties are stronger but less flexible than narrow and standard cable ties. Use them for heavy duty applications that require extra strength.
Long-Lasting

Polyurethane Tie Downs


With the strength of plastic and the stretch of rubber, these polyurethane rubber tie downs have excellent stretch recovery and won't become brittle. They stand up to oil, grease, fuel, ozone, and salt water.
Plastic hooks are nonmarring. Stainless steel hooks are more corrosion resistant than zinc-plated steel hooks.
Warning: Never use for lifting applications.