Stainless Steel Cable Ties

Fold Over
For use in the harshest environments, these ties withstand chemicals and UV rays.
Lg.

For

Max.


Bundle

Dia.

Breaking


Strength,

lbs.

Useful Life

Wd.

Thick.

For Use
Outdoors

Max.




Temperature,

°F

Pkg.




Qty.

Pkg.

Solid Fold Over

Extra Wide

78"
23"
Not Rated
Reusable
0.75"
0.01"
Yes
Not Rated
1
0000000
00000
Extra-Stretch

Extension Springs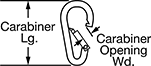 These fabric-covered rubber springs stretch up to three times their original length—much farther than traditional extension springs, tie downs, and shock cords. All have carabiner ends with spring-loaded latch openings. Do not use to hold overhead loads.
As you stretch an extension spring, it gets harder to pull. Minimum load is the amount of force required to start to extend the spring. Maximum load is the amount of force required to fully extend the spring. Spring rate is the amount of force required for every inch of extension.
For technical drawings and 3-D models, click on a part number.
OD
Extended


Lg.

@


Max.

Load

Min.

Max.

Spring


Rate,




lbs./in.

Material
Sleeve
Material

Lg.

Opening


Wd.

Material
Temperature


Range,




°F

Each
1"
222"
Not Rated
26
0.18
Latex Rubber
Polypropylene Fabric
2"

5/16

"
Black-Oxide Steel
30° to 130°
000000
000000
1.75"
222"
Not Rated
33
0.23
Latex Rubber
Polypropylene Fabric
2"

5/16

"
Black-Oxide Steel
30° to 130°
0000000
00000
1.75"
222"
Not Rated
47
0.33
Latex Rubber
Polypropylene Fabric
2"

5/16

"
Black-Oxide Steel
30° to 130°
0000000
00000
1.75"
222"
Not Rated
77
0.53
Latex Rubber
Polypropylene Fabric
2"

5/16

"
Black-Oxide Steel
30° to 130°
0000000
00000