Bale and Bundle Twist Ties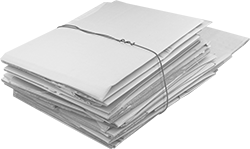 Secure large bundles such as lumber, cardboard, and wire coils. Feed the straight end through the loop and twist. Also known as baling wire. They're painted to resist corrosion.
Weather-Resistant

Hook and Loop Cable Ties with Buckle

Bundle cables outdoors with these ties that withstand exposure to UV rays and water. The buckle allows you to cinch these ties tight.
Cinching Straps
Also known as lashing straps, use these to tightly secure material.
Nylon is abrasion resistant and strong, yet flexible. Polypropylene is water resistant and has some UV resistance. Cotton is soft and easy to handle.
Feed-through buckles are easy to thread quickly. Squeeze-release buckles can be released with one hand. Cam buckles tighten faster than feed-through buckles and provide a more secure hold than spring-loaded clamp buckles.