Wide-Range

Belt Tension Gauges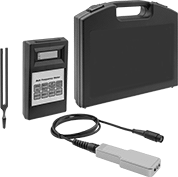 Measure belt tension up to 2,200 lbs. Position the sensor above your belt and pluck the belt like a guitar string to create vibration. Then, read the tension measurement on the display.
For
Belt
Type
For

Max.


Belt


Wd.

Pounds
Hertz
Newtons
Power
Source
Size
Number
Required
Included
Includes
Each
Flat, Round, V
Any
1-2,200
10-400
1-9,990
Battery
AA
4
Yes
Tuning Fork, Plastic Case
000000
000000000
Belt Tension Gauges


For V-Belts,
Flat
Belts,
and
Round Belts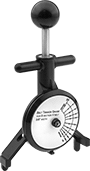 For A-Section
V-Belts,
B-Section
V-Belts,
and Timing Belts
Keep an eye on belt tension to minimize vibration, noise, and slippage.
Gauge for V-belts and gauges for V-belts, flat belts, and round belts are pocket-sized for measurements on the go.
For technical drawings and 3-D models, click on a part number.