Pneumatic Casters with Rubber Wheels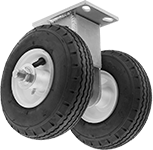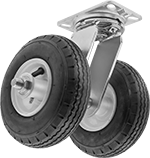 The air-filled wheels on these casters absorb shock to protect your load even on rough surfaces.
Dual-wheel casters provide better load distribution and easier turning than single-wheel casters.
Forged-steel frames are more durable than formed-steel and stamped-steel frames.
Roller wheel bearings provide smooth rolling and can be used for towing. Swivel casters with double-ball bearings have the smoothest swiveling.
For technical drawings and 3-D models, click on a part number.