About
Copper,

Brass,

and Bronze
Titanium-Clad

Super-Conductive

101 Copper Rods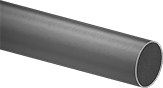 Yield

Strength:

Not Rated

Hardness:

Not Rated
Temper

Rating:

Not Rated
Heat

Treatable:

No
A thin layer of titanium is bonded to these copper rods for long life and dimensional stability in corrosive environments. With greater than 99.9% copper content, 101 copper has higher purity than 110 copper, resulting in superior electrical conductivity. It's commonly called OFHC copper. Use these rods in electrical applications.
For technical drawings and 3-D models, click on a part number.

Certificates with a traceable lot number are available for these products. Download certificates from ORDER HISTORY after your order ships.
Dia.

Dia.

Tolerance
Finish

Thick.

3 ft.

Lg.

6 ft.

Lg.

1/4

"
-0.005" to 0.005"
0.02" to 0.04"
000000

3/8

"
-0.01" to 0.01"
0.02" to 0.04"
000000

1/2

"
-0.01" to 0.01"
0.02" to 0.04"
000000

5/8

"
-0.01" to 0.01"
0.02" to 0.04"
000000

3/4

"
-0.01" to 0.01"
0.02" to 0.04"
000000
1"
-0.02" to 0.02"
0.02" to 0.04"
000000