High-Temperature

Slippery UHMW Polyethylene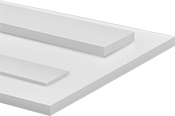 Also known as Tivar H.O.T., this material lasts up to 10 times longer in high-temperature applications than standard UHMW. These sheets and bars are excellent electrical insulators. They have a slippery surface that resists wear and prevents sticking, plus they provide superior protection from damage caused by impact. They are FDA compliant for direct contact with food.
Skived sheets are more likely to curl than extruded sheets.
For technical drawings and 3-D models, click on a part number.
Color:

White
Temperature

Range:

-40° to 275° F

Tensile

Strength:

6,

800 psi

(Good)

Impact

Strength:

No Break

(Excellent)

Hardness:

Durometer 68D

(Medium)

For Use

Outdoors:

Yes
Specifications

Met:

ASTM

D4020,

ASTM

D4976,

ASTM

D6712,

FDA Compliant 21 CFR

177.1520,

FDA Compliant 21 CFR

178.2010,

FDA Compliant 21 CFR

178.

3297
Thick.

Thick.

Tolerance
Fabrication
Each

1/2

"
-0.05" to 0.05"
Extruded
0000000
000000
1"
-0.1" to 0.1"
Extruded
0000000
00000
1

1/2

"
-0.15" to 0.15"
Extruded
0000000
00000

1/8

"
-0.02" to 0.02"
Skived
0000000
00000

1/4

"
-0.025" to 0.025"
Skived
0000000
00000

1/2

"
-0.05" to 0.05"
Extruded
0000000
00000
1"
-0.1" to 0.1"
Extruded
0000000
00000
1

1/2

"
-0.15" to 0.15"
Extruded
0000000
00000

1/8

"
-0.02" to 0.02"
Skived
0000000
00000

1/4

"
-0.025" to 0.025"
Skived
0000000
00000

1/2

"
-0.05" to 0.05"
Extruded
0000000
00000
1"
-0.1" to 0.1"
Extruded
0000000
000000
1

1/2

"
-0.15" to 0.15"
Extruded
0000000
000000

1/8

"
-0.02" to 0.02"
Skived
0000000
00000

1/4

"
-0.025" to 0.025"
Skived
0000000
00000

1/2

"
-0.05" to 0.05"
Extruded
0000000
00000
1"
-0.1" to 0.1"
Extruded
0000000
000000
1

1/2

"
-0.15" to 0.15"
Extruded
0000000
000000

1/8

"
-0.02" to 0.02"
Skived
0000000
00000

1/4

"
-0.025" to 0.025"
Skived
0000000
000000

1/2

"
-0.05" to 0.05"
Extruded
0000000
000000
1"
-0.1" to 0.1"
Extruded
0000000
000000
1

1/2

"
-0.15" to 0.15"
Extruded
0000000
000000

1/8

"
-0.02" to 0.02"
Skived
0000000
000000

1/4

"
-0.025" to 0.025"
Skived
0000000
000000

1/2

"
-0.05" to 0.05"
Extruded
0000000
000000
1"
-0.1" to 0.1"
Extruded
0000000
000000
1

1/2

"
-0.15" to 0.15"
Extruded
0000000
000000
Color:

White
Temperature

Range:

-40° to 275° F

Tensile

Strength:

6,

800 psi

(Good)

Impact

Strength:

No Break

(Excellent)

Hardness:

Durometer 68D

(Medium)

For Use

Outdoors:

Yes
Specifications

Met:

ASTM

D4020,

ASTM

D2240,

FDA Compliant 21 CFR

177.1520,

FDA Compliant 21 CFR

178.2010,

FDA Compliant 21 CFR

178.

3297