Toilet and Urinal Sealing Rings

Wax for
Floor-Mount
Toilets

Wax with
Flange for
Floor-Mount
Toilets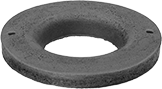 Foam for
Floor-Mount
and
Wall-Mount
Toilets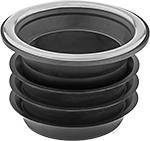 Plastic for
Floor-Mount
and
Wall-Mount
Toilets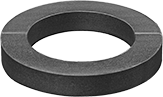 Rubber with Adhesive Back for
Wall-Mount
Toilets

Wax for
Wall-Mount
Urinals
Material
For Drain
Pipe Size

Thick.

Features
Each
Wax
3, 4

3/4

"
__
0000000
00000
Wax
3, 4

3/4

"
Flange
0000000
0000
Wax
3, 4
1"
Flange
0000000
0000

For

Floor-Mount

and

Wall-Mount

Toilets

Foam
3, 4

3/4

"
__
0000000
0000
Plastic
4

3/16

"
__
0000000
0000
Rubber
4

3/4

"
Adhesive Back
0000000
00000
Wax
2

1"
__
0000000
0000
Toilet Mounting Flanges

Steel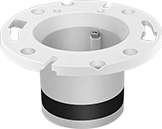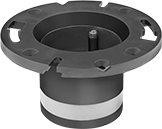 Plastic flanges have adjustment bolts, which expand the compression joint when tightened, allowing up to 3" of adjustment.
ABS is more impact-resistant than PVC.
Tankless Toilet and Urinal Inlet Connectors

Connector

Replacement Washer

Replacement Gasket
Connect wall-mount toilets and urinals to the flush valve. These connectors are also known as spuds.
For technical drawings and 3-D models, click on a part number.
For

Toilet/Urinal


Inlet

Dia.

(A)

For
Flush Valve
Tube OD

(B)

Material
Includes
Each
Each
Each

For Toilets

1

1/4

"
1

1/4

"
Brass
Gasket, Locknut, Washer
000000
000000
0000000
00000
0000000
00000
1

1/2

"
1

1/4

"
Brass
Gasket, Locknut, Washer
0000000
00000
000000
00
000000
00
1

1/2

"
1

1/2

"
Brass
Gasket, Locknut, Washer
000000
00000
0000000
000
0000000
000
2"
1

1/4

"
Brass
Gasket, Locknut, Washer
000000
00000
0000000
0000
0000000
0000
2"
1

1/2

"
Brass
Gasket, Locknut, Washer
000000
00000
0000000
0000
0000000
0000
2"
2"
Brass
Gasket, Locknut, Washer
000000
00000
0000000
0000
0000000
0000

For Urinals

1"

3/4

"
Brass
Gasket, Locknut, Washer
0000000
0000
000000
00
000000
00
1

1/4

"

3/4

"
Brass
Gasket, Locknut, Washer
0000000
00000
000000
00
000000
00
1

1/2

"
1

1/2

"
Brass
Gasket, Locknut, Washer
0000000
0000
000000
00
000000
00
Toilet
Tank-to-Bowl

Gaskets