System of Measurement

System of Measurement
Show
DFARS (Defense Acquisition Regulations Supplement)

DFARS

(Defense

Acquisition

Regulations

Supplement)
Inspection and Measuring Fixturing
Use these components in coordinate measuring machine (CMM) applications to raise a workpiece and reliably position it on a fixture plate with 1/4"-20 holes. They are not for use in machining applications.
For technical drawings and 3-D models, click on a part number.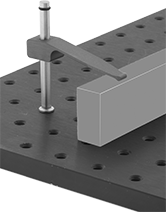 Hold-down clamps thread directly into a fixture plate, tower, or compatible component. Slide the clamp down its shaft and press into place against the workpiece for a light hold. They're also known as tension spring clamps.
Reach

Ht.

Size

Pitch,


mm

Lg.

Material
Each

Standard

21mm
50mm
M4

0.7
4.8mm
Aluminum
0000000
000000
21mm
50mm
M6

1
6.4mm
Aluminum
0000000
00000
38mm
50mm
M4

0.7
4.8mm
Aluminum
0000000
00000
38mm
75mm
M6

1
6.4mm
Aluminum
0000000
00000
38mm
75mm
M8

1.25
7.9mm
Aluminum
0000000
00000
58mm
50mm
M4

0.7
4.8mm
Aluminum
0000000
00000
58mm
75mm
M6

1
6.4mm
Aluminum
0000000
00000
58mm
75mm
M8

1.25
7.9mm
Aluminum
0000000
00000