Washdown Headlamps

A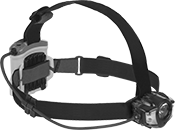 B
Rated IP07, this headlamp withstands temporary submersion in a maximum of one meter of water for up to 30 minutes. It shines light on your work while keeping your hands free. This headlamp has long-lasting, built-in LEDs that produce more light and generate less heat than other light technologies. It casts a uniform beam that's especially good for close-up tasks and inspection work. Headlamps come on an adjustable elastic strap for normal wear. For secure wear over a hard hat, they also come with a rubber strap and snap-together fastener.
Headlamps with a battery life indicator let you know how close the batteries are to needing replacement. An LED light glows green when battery life is above 80%, yellow when it's between 20% and 80%, and red when it's below 20%.
Headlamps with a dimmable light conserve battery life.
Head
Tilt
Brightness


(Battery Life)

Light
Setting

Distance,




ft.

Color
Pattern

Wd.

Dp.

Ht.

Color
Environment
Included

No.


Required
Features
Each

LED Bulbs

Adjustable Beam Focus

A
180°
420 lumens (95 hrs.)
80 lumens (104 hrs.)
20 lumens (108 hrs.)
High Beam
Medium Beam
Low Beam
Dimmable
255 ft.
White
Uniform
1

1/4

"
2"
2

1/4

"
Black
Temporary Submersion, Washdown
Yes
3
__
0000000
000000
B
90°
200 lumens (100 hrs.)
25 lumens (150 hrs.)
650 lumens (72 hrs.)
High Beam
Medium Beam
Low Beam
Strobe
390 ft.
White
Uniform
2

1/2

"
1

1/2

"
2"
Black
Hazardous Location, Temporary Submersion, Washdown
Yes
4
Battery Life Indicator
0000000
00000