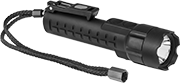 A

B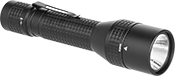 C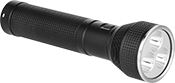 D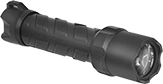 E

F
All of these flashlights stand up to wet environments. They have a slip-resistant grip to ensure a secure hold.
IP04 flashlights withstand liquid splashed from all angles.
IP07 flashlights withstand temporary submersion in a maximum of one meter of water for up to 30 minutes.
IP08 flashlights withstand continuous submersion according to the manufacturer's specific conditions; all at least meet IP07 standards for submersion in a maximum of one meter of water for up to 30 minutes.
LED flashlights last longer, are more efficient, and generate less heat than krypton flashlights. Krypton flashlights are the same lighting technology as found in a camera flash.
Bull's eye beam flashlights have a bright center for long-distance illumination.
Styles A-E were tested and rated to ANSI/NEMA FL 1 standards.
CE marked flashlights meet European health, safety, and environmental protection requirements.
Style A have two lenses that can cast light from the top or side of the flashlight. Both have a magnet that allows you to mount them to a nearby surface and keep your hands free for work.
Style B operate like traditional flashlights, but also provide 360° illumination by sliding out the light head. Note: Battery life is significantly reduced when used at the high-beam setting.
Style C switch between red and white light beams with a twist of their head; the red beam is particularly effective when it's dark out. They also work with non-rechargeable batteries (not included).
Style D have a detachable power bank with a USB connection for charging small devices, such as phones. When they're separated, cover the exposed ends of the bank and flashlight with the included caps. These flashlights are dimmable, and they revert to their most recent brightness setting when you turn them on.
Style E are also known as dive lights.
Style F come with four additional snap-in plastic lenses that store in the base: blue, red, white, and a diffuser lens.