Electric Torque Screwdrivers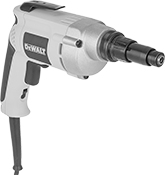 The clutch slips when the set torque is reached to prevent overtightening and damaging fasteners. To set torque, turn the adjustment collar.
No.


of
Speeds

Max.




No-Load




Speed,

rpm

Max.




Torque,




in.-lbs.

For Bit Hex
Shank
Size

O'all




Lg.

Wt.,




lbs.

Voltage

Current, A

Cord


Lg.,




ft.

Specifications
Met
Manufacturer
and Model


No.

Each

Clutch Slips Torque Limiter

Variable
1,200
140

1/4

"
12"
3.6
120V AC
6.5
8
CSA Certified, UL Listed
DeWalt DW267
0000000
0000000
Digital
Torque-Measuring

Screwdrivers

A green light and a beep alert you when you've reached 90% of your set torque, and a steady tone sounds once you've hit your target. Set your torque in cNm, cm-Kg, or in.-lbs. and quickly check the LCD for real-time measurements along the way. A red light warns if you begin to overtighten. In addition to applying the correct torque to a fastener, these screwdrivers can help determine fastener torque specifications and identify the torque required to loosen tightened fasteners. They store up to nine torque settings to save time when working on multiple fasteners. They're compatible with any bit that has a 1/4" hex shank. All require one AAA battery (included). To save battery power, the display turns off after five minutes of idle time. You can also turn the display off manually.
Accurate to within 2% of the set torque in the clockwise direction, and 3% in the counterclockwise direction, these screwdrivers are more precise than standard torque screwdrivers. All screwdrivers come with a calibration certificate from the manufacturer. Screwdrivers with calibration certificate with test data traceable to NIST include the test measurements that confirm accuracy.
Torque Range
Graduations
For Bit Hex
Shank Size
Clockwise
Counterclockwise

O'all




Lg.

Shaft
Handle
Batteries
Included
Each

Calibration Certificate

0.45-4.4 in.-lbs.
5-50 cNm
0.5-5 cm-kg
0.01 in.-lbs.
0.1 cNm
0.01 cm-kg

1/4

"
±2%
±3%
8"
Steel
Plastic
Yes
0000000
0000000
1.7-17.7 in.-lbs.
20-200 cNm
2-20 cm-kg
0.01 in.-lbs.
0.1 cNm
0.01 cm-kg

1/4

"
±2%
±3%
8"
Steel
Plastic
Yes
0000000
000000
3.5-35 in.-lbs.
40-400 cNm
4-40 cm-kg
0.01 in.-lbs.
0.1 cNm
0.01 cm-kg

1/4

"
±2%
±3%
8"
Steel
Plastic
Yes
0000000
000000

Calibration Certificate with Test Data Traceable to NIST Certificate of Calibration

0.45-4.4 in.-lbs.
5-50 cNm
0.5-5 cm-kg
0.01 in.-lbs.
0.1 cNm
0.01 cm-kg

1/4

"
±2%
±3%
8"
Steel
Plastic
Yes
0000000
000000
1.7-17.7 in.-lbs.
20-200 cNm
2-20 cm-kg
0.01 in.-lbs.
0.1 cNm
0.01 cm-kg

1/4

"
±2%
±3%
8"
Steel
Plastic
Yes
0000000
000000
3.5-35 in.-lbs.
40-400 cNm
4-40 cm-kg
0.01 in.-lbs.
0.1 cNm
0.01 cm-kg

1/4

"
±2%
±3%
8"
Steel
Plastic
Yes
0000000
000000