Square Drive
Torque-Measuring

Screwdrivers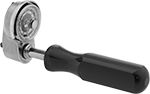 Attach a socket to the 1/4" square drive tip to turn hex nuts and hex head screws. The dial on these drivers shows how torque measurements change as you turn. Use to fasten to a specific torque, determine fastener torque specifications, and identify the torque required to loosen tightened fasteners. To use with screwdriver bits, add a bit adapter. Drivers come with a calibration certificate that is traceable to NIST and includes the test measurements that confirm accuracy.
Drivers with memory pointer indicate the maximum torque reached.
Drivers with 1/4" female square drive in handle allow you to attach a T-handle or ratchet to the end for extra leverage when applying high torque.
Note: The accuracy ratings do not apply to the lower 20% of the torque range.
Square
Drive
Size
Torque
Range
Graduations
Clockwise
Counterclockwise
Certification

O'all




Lg.

Shaft
Handle
Features
Each

1/4

"
0-48 in.-oz.
0-3 in.-lbs.
0.0625 in.-lbs.
1 in.-oz.
±2%
±2%
Calibration Certificate with Test Data Traceable to NIST Certificate of Calibration
9"
Steel
Plastic
Memory Pointer
00000000
0000000

1/4

"
0-192 in.-oz
0-12 in.-lbs.
4 in.-oz.
0.25 in.-lbs.
±2%
±2%
Calibration Certificate with Test Data Traceable to NIST Certificate of Calibration
8

3/4

"
Steel
Plastic
Memory Pointer
00000000
000000

1/4

"
0-384 in.-oz
0-24 in.-lbs.
8 in.-oz.
0.5 in.-lbs.
±2%
±2%
Calibration Certificate with Test Data Traceable to NIST Certificate of Calibration
8

3/4

"
Steel
Plastic
Memory Pointer
00000000
000000

1/4

"
0-480 in.-oz
0-30 in.-lbs.
16 in.-oz.
1 in.-lbs.
±2%
±2%
Calibration Certificate with Test Data Traceable to NIST Certificate of Calibration
8

3/4

"
Steel
Plastic
Memory Pointer
00000000
000000

1/4

"
0-8 in.-oz.
0.25 in.-oz
±2%
±2%
Calibration Certificate with Test Data Traceable to NIST Certificate of Calibration
9"
Steel
Plastic
Memory Pointer
00000000
000000

1/4

"
0-50 in.-lbs.
1 in.-lbs.
±2%
±2%
Calibration Certificate with Test Data Traceable to NIST Certificate of Calibration
8

3/4

"
Steel
Plastic
Memory Pointer


1/4

" Female Square Drive in Handle
00000000
000000

1/4

"
0-75 in.-lbs.
1 in.-lbs.
±2%
±2%
Calibration Certificate with Test Data Traceable to NIST Certificate of Calibration
8

3/4

"
Steel
Plastic
Memory Pointer


1/4

" Female Square Drive in Handle
00000000
000000