Turning Carbide Insert Holders

Secure carbide inserts inside these holders for stable turning. They're also known as indexable insert holders. Select a holder that's compatible with your insert by matching the insert style and inscribed circle diameter (IC). Right-hand holders move from right to left toward the lathe chuck, left-hand holders move from left to right away from the lathe chuck, and neutral holders can cut in either direction.
C-code holders secure inserts with a top clamp, leaving space for you to add a plate-type chipbreaker between the insert and the clamp.
Holders with an offset shank are good for reaching into tight corners and when working close to the chuck.
For technical drawings and 3-D models, click on a part number.
CTAP Holders with Straight Shank—For TPG, TPMR, TPU Inserts

Right Hand

Left Hand
CTCO Holders with Straight Shank—For TPG, TPMR, TPU Inserts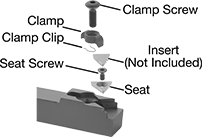 CTFP Holders with Offset Shank—For TPG, TPMR, TPU Inserts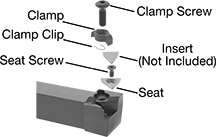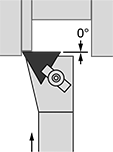 Right Hand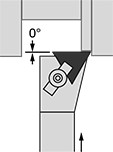 Left Hand