Spring-Loaded

Slide-Bolt

Latches
Bolts are spring-loaded to stay latched until you activate the pull. All latches are reversible for right- and left-hand mounting.
Latches with hook pull have bolts that can be rotated 180°, so they can be used with both push and pull doors. Choose those with an offset bolt to accommodate door offset, which is the space between the front of a door and the frame.
For technical drawings and 3-D models, click on a part number.

With Knob Pull

Without Offset Bolt
Ht.

Wd.

Projection

Wd.

Thick.

Orientation
Fasteners
Included
Screw
Size

Dia.

Style
Each
1

1/2

"
1

1/4

"
1"

3/8

"

3/8

"
Horizontal, Vertical
No
No. 8

1/4

"
Straight
0000000
000000
2"
1

5/8

"
1

1/4

"

7/16

"

7/16

"
Horizontal, Vertical
No
No. 10

1/4

"
Straight
0000000
00000
2

7/8

"
2"
1

3/8

"

1/2

"

1/2

"
Horizontal, Vertical
No
No. 10

1/4

"
Straight
0000000
00000
1

1/2

"
1

1/4

"
1"

3/8

"

3/8

"
Horizontal, Vertical
No
No. 8

1/4

"
Straight
0000000
00000
2"
1

5/8

"
1

1/4

"

7/16

"

7/16

"
Horizontal, Vertical
No
No. 10

1/4

"
Straight
0000000
00000
2

7/8

"
2"
1

3/8

"

1/2

"

1/2

"
Horizontal, Vertical
No
No. 10

1/4

"
Straight
0000000
00000

With Ring Pull

Without Offset Bolt
Surface-Mount


Strike Plate

Ht.

Wd.

Projection

Wd.

Thick.

Ht.

Wd.

Orientation
Fasteners
Included
Screw
Size

Dia.

Style
Each
2"
1

5/8

"
1

1/8

"

7/16

"

7/16

"

5/8

"
1

5/8

"
Horizontal, Vertical
Yes
No. 7

1/4

"
Countersunk
0000000
000000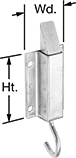 With Hook Pull

Without Offset Bolt

With Offset Bolt
Ht.

Wd.

Projection

Wd.

Thick.

Orientation
Fasteners
Included
Screw
Size

Dia.

Style
Each

Without Offset Bolt

3

1/8

"
2

1/8

"

3/4

"

3/4

"

3/4

"
Horizontal, Vertical
No
No. 8

1/4

"
Straight
0000000
000000
3

1/8

"
2

1/8

"
1

1/4

"

3/4

"

3/4

"
Horizontal, Vertical
No
No. 8

1/4

"
Straight
0000000
00000
3

1/8

"
2

1/8

"

3/4

"

3/4

"

3/4

"
Horizontal, Vertical
No
No. 8

1/4

"
Straight
0000000
00000
3

1/8

"
2

1/8

"
1

1/4

"

3/4

"

3/4

"
Horizontal, Vertical
No
No. 8

1/4

"
Straight
0000000
00000