Sink Drain Traps
Prevent sewer gas from entering your building. Traps swivel and adjust vertically for convenient installation.

NPT Female
Pipe Outlet Connection

Slip-Joint
Outlet Connection
Use these J-bends as replacement parts for P-traps and S-traps.
Extension Tubing for Sink Drain Traps
Use these extensions to help connect drain tailpieces to drain traps.
Dual-Connection

Sink Drain Outlets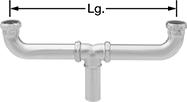 Brass Center Outlet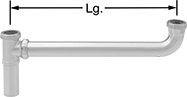 Brass End Outlet
Connect two drains to a single outlet.

Brass
Use these fittings to connect tailpieces, P-traps, S-traps, and extension tubing to sink drains.
Brass and Bronze Steam Traps
A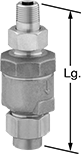 C

B
These steam traps have good corrosion resistance. Also known as thermostatic steam traps, they increase the efficiency of your radiator by venting cool air. Steam traps open and close based on temperature. They are often used with convection heaters, drip lines, and risers.
Steam traps with vertical pipeline orientation should be installed with the outlet pointing down.
For technical drawings and 3-D models, click on a part number.
Pipeline
Orientation
Pipe
Size

Thread
Type
Gender
Pipe
Size

Thread
Type
Gender

Max.




Pressure,


psi

Max.




Temp.,




°F

Condensate


Capacity,




lbs./hr.

Lg.

Each

Brass

A
Horizontal, Vertical

1/2

NPT

Male

1/2

NPT

Female
25
265°
210
2

7/8

"
0000000
0000000
A
Horizontal, Vertical

1/2

NPT

Male

1/2

NPT

Female
65
310°
350
2

7/8

"
0000000
000000
A
Horizontal, Vertical

3/4

NPT

Male

3/4

NPT

Female
25
265°
430
3

1/8

"
0000000
000000
A
Horizontal, Vertical
1

NPT

Male
1

NPT

Female
65
310°
820
3

5/8

"
0000000
000000
B
Horizontal

1/2

NPT

Male

1/2

NPT

Female
25
265°
210
4

1/2

"
0000000
000000
B
Horizontal

1/2

NPT

Male

1/2

NPT

Female
65
310°
350
4

1/2

"
0000000
000000
B
Horizontal

3/4

NPT

Male

3/4

NPT

Female
25
265°
430
5"
0000000
000000
C
Vertical

1/2

NPT

Male

1/2

NPT

Female
125
350°
1,500
5

1/8

"
0000000
000000