System of Measurement

System of Measurement
Fill Opening OD

Fill Opening OD
RoHS (Restriction of Hazardous Substances)

RoHS

(Restriction

of
Hazardous

Substances)
Specifications Met

Specifications Met
DFARS (Defense Acquisition Regulations Supplement)

DFARS

(Defense

Acquisition

Regulations

Supplement)
Safety Disposal Cans for Flammable Liquids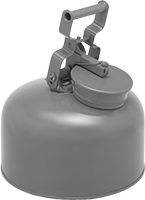 Store leftover hazardous liquids until they can be properly discarded. The spring-loaded, self-closing cap on these cans automatically vents to relieve excess vapor pressure, and a flame arrester protects against outside ignition.
316 stainless steel cans are for liquids such as acetone, alcohol, ether, toluene, and xylene.
Galvanized steel cans are for petroleum-based liquids.