Hoist Trolleys
Transport hook-mount hoists along a beam.
Style B is rated for metric tons.
Stainless steel trolleys are corrosion resistant.
Trolleys with mounting bars take up less vertical space than mounting eyes and are good for applications with low clearance. Trolleys with mounting bar and eye allow you to remove the mounting eye and use the mounting bar for applications that require lower clearance.
Trolleys with spacing washers can accommodate a range of beam widths; add or remove the washers to fit. Trolleys with screw adjustment can be adjusted to fit your beam more quickly than trolleys that use spacing washers.
Side guide rollers prevent the trolley from wobbling.
Warning: Never use to lift people or items over people.
For technical drawings and 3-D models, click on a part number.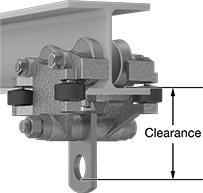 A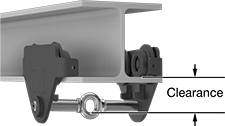 B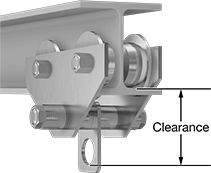 C
tons

lbs.

Shape

Wd.

Min.




Ht.

Clearance

Min.


Curve
Radius
Wheel
Material
Eye


Dia.

Adjustment
Type
Features
Each

Cast Iron

A

1/4

500
Tapered
2"-2

1/2

"
3"
3

1/2

"
24"
Steel
1"
Spacing Washers
Side Guide Rollers
0000000
0000000

Steel

B

1/2

1,100
Flat, Tapered
2"-8

5/8

"
2

3/4

"
3"
35"
Steel
1"
Screw
__
0000000
000000
B
1
2,200
Flat, Tapered
2"-8

5/8

"
2

3/4

"
3

1/4

"
35"
Steel
1

1/8

"
Screw
__
0000000
000000
B
2
4,400
Flat, Tapered
2

1/2

"-8

5/8

"
3

3/4

"
3

7/8

"
45"
Steel
1

1/2

"
Screw
__
0000000
000000
B
3
6,600
Flat, Tapered
3"-8

5/8

"
5

1/8

"
4

1/2

"
55"
Steel
2"
Screw
__
0000000
000000
B
5
11,000
Flat, Tapered
3

1/2

"-8

5/8

"
5

5/8

"
5

1/4

"
70"
Steel
2

1/4

"
Screw
__
0000000
000000

Stainless Steel

C

1/2

1,000
Flat, Tapered
2

3/4

"-5"
4"
5"
20"
Stainless Steel
1

3/4

"
Spacing Washers
__
0000000
00000000
C
1
2,000
Flat, Tapered
3"-5"
5"
5

1/2

"
24"
Stainless Steel
1

3/4

"
Spacing Washers
__
0000000
00000000
C
2
4,000
Flat, Tapered
3

1/2

"-6

1/4

"
6"
6

3/4

"
30"
Stainless Steel
2

1/8

"
Spacing Washers
__
0000000
00000000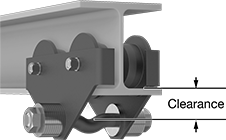 D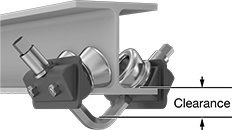 E
tons

lbs.

Shape

Wd.

Min.




Ht.

Clearance

Min.


Curve
Radius
Wheel
Material
Bar


Thick.

Adjustment
Type
Each

Steel

D

1/8

300
Flat, Tapered
2

1/2

"-4

1/2

"
3"
2

1/2

"
18"
Nylon Plastic

3/4

"
Spacing Washers
0000000
0000000
E

1/2

1,000
Flat, Tapered
2

3/4

"-5"
4"
2"
7"
Steel

5/8

"
Screw
000000
000000
E
1
2,000
Flat, Tapered
2

3/4

"-5"
4"
1

3/4

"
7"
Steel

7/8

"
Screw
000000
000000
E
2
4,000
Flat, Tapered
3

1/2

"-5

1/2

"
6"
2"
10"
Steel
1

1/8

"
Screw
000000
000000
E
3
6,000
Flat, Tapered
4"-6

1/4

"
8"
1

7/8

"
10"
Steel
1

1/8

"
Screw
000000
000000
With Mounting Bar and Eye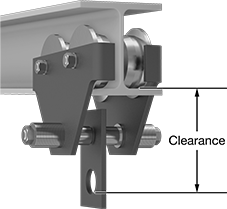 F
tons

lbs.

Shape

Wd.

Min.




Ht.

Clearance

Min.


Curve
Radius
Wheel
Material
Eye


Dia.

Bar


Thick.

Adjustment
Type
Each

Steel

F

1/2

1,000
Flat, Tapered
2

3/4

"-4

1/2

"
4"
2", 6"
24"
Cast Iron
1

1/2

"

3/8

"
Spacing Washers
0000000
0000000
F
1
2,000
Flat, Tapered
3"-5

1/4

"
5"
2

1/4

", 6

1/2

"
36"
Cast Iron
1

1/2

"

3/8

"
Spacing Washers
0000000
000000
F
2
4,000
Flat, Tapered
3

1/2

"-6"
6"
2

1/2

", 6

1/2

"
48"
Cast Iron
1

1/2

"

3/8

"
Spacing Washers
0000000
000000
F
3
6,000
Flat, Tapered
4"-8"
8"
2", 8

1/2

"
60"
Cast Iron
2

1/2

"

3/4

"
Spacing Washers
0000000
000000
F
5
10,000
Flat, Tapered
4

3/4

"-8"
10"
2

3/8

", 9

1/2

"
60"
Cast Iron
2

1/2

"

3/4

"
Spacing Washers
0000000
00000000