Concrete Trowels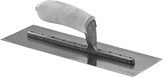 A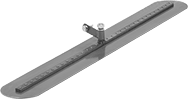 B
Once concrete begins to set up and surface water reabsorbs, finish with a trowel to compact the top layer for a smooth, hard surface.
Style B trowels accept a handle (sold separately).
Drywall Finishing Trowels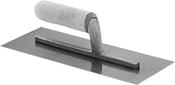 Wider and stiffer than taping knives, trowels can apply and spread large amounts of drywall compound quickly.
Wd.

Lg.

Material

Lg.

Material
Each
4

1/2

"
11"
Steel
5"
Polypropylene Plastic
000000
000000
Drywall Corner Trowels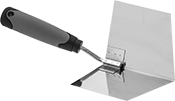 Smooth joint compound on both sides of an interior corner with these trowels.
Wd.

Lg.

Material

Lg.

Material
Each
4"
5"
Stainless Steel
4

7/8

"
Rubber
0000000
000000
Notched Trowels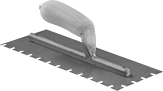 Steel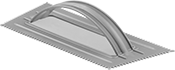 Plastic
Spread adhesives with these trowels.
Steel trowels have two straight sides and two sides with U-shaped notches.
Plastic trowels have V-shaped notches on all four sides.
Disposable Notched Trowels
For easy cleanup, these trowels are disposable.
Trowels with square notches have different size notches on each side.
Trowels with V notches have one straight side and different size notches on three sides.
Disposable Nonscratching Plastic Putty Knives

Straight Edge

Serrated Edge with Square Teeth

Serrated Edge with
V-Shaped
Teeth
Spread adhesive, thinset, and other hard-to-clean materials without scratching your surface and then simply throw these knives away.
Knives with a serrated blade edge have square or V-tooth notched teeth for evenly applying material.
For technical drawings and 3-D models, click on a part number.
Mini Spades

Overall


Lg.

Style
Material

Lg.

Wd.

Ht.

Each

Chrome-Plated

Steel Blade

13"
Straight
Wood
6"
3

1/2

"
6"
000000
000000