About Paint and Protective Coatings
Textured Polyurethane Coatings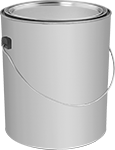 Designed for use in truck beds, these durable coatings create a tough, textured finish that prevents objects from sliding. Made from polyurethane, they resist abrasion and won't fade from exposure to UV light.
Coatings in a can contain a roller, tray, and everything else you need to create a new protective coating.
Use coatings in an aerosol can to cover hard-to-reach places and to touch up worn-out areas.
Container
Size
Composition

Touch,




hrs.

O'all,




hrs.

Approximate
Coverage @
Thickness

Max.




Temp.,




°F

Application


Temp.




Range,

°F

For
Use
Outdoors
For
Use
On
Includes
Color


(Appearance)

Each
16.5 oz.
Water Based
1
3
16 sq. ft. @ 1 mil
95°
60° to 90°
Yes
Aluminum, Fiberglass, Concrete, Wood
__
Black (Satin)
0000000
000000
1 gal.
Water Based
1
3
Not Rated
95°
60° to 95°
Yes
Aluminum, Fiberglass, Concrete, Wood
Roller Cover, Roller Frame, Roller Tray, Scuff Pad, Trim Brush
Black (Satin)
0000000
000000
Traction Mats
These mats provide good traction while protecting walkways, ramps, and other high-traffic areas.
Vinyl mats resist grease, oil, and chemicals.
Rubber mats are more durable and abrasion resistant than vinyl.
Styles A-F have a textured surface for good slip resistance. Style B have borders on the edges to provide visibility and indicate designated walking areas.
Style G have a tacky surface for some slip resistance.
Epoxy Adhesives for Floor Tiles

Use this two-part, solvent-free epoxy to install floor tiles.
Size,




gal.

Type
Approximate


Coverage,

sq.

ft.

Mixing
Required
Begins to


Harden,

min.

Reaches Full


Strength,

hrs.

For Use
Outdoors
Each
1
Can
125-150
Yes
40
72
No
0000000
0000000
Floor Tiles

Often used in stairwells and hallways, these tiles have a raised-disc surface that provides traction and is easy to clean. Tile remains flexible at low temperatures. Install with epoxy adhesive (sold separately).
Wd.

Lg.

Thick.

For Use
Outdoors
Choose a Color
Each

Raised Disc

Rubber

24"
24"

5/32

"
No
0000000
000000
| | | | |
| --- | --- | --- | --- |
| Epoxy Adhesive (1 gal. Can) | 0000000 | Each | 0000000 |
Liners for
Large-Volume

Containers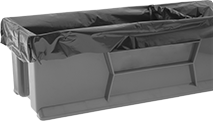 Extend the life of your dumpster, dump truck, or container with these heavy duty, tear-resistant plastic liners. They're designed to contain leaks and provide quick cleanup. Each liner comes rolled.
Lg.,




ft.

Ht.,




ft.

Wd.,




ft.

Flexibility
Material
Color
Each
Each
Each
22
8
8
Flexible
Polyethylene Plastic
Black
000000
000000
000000
000000
000000
000000
33
5

1/2

8
Flexible
Polyethylene Plastic
Black
000000
00
000000
00000
000000
00
33
8
8
Flexible
Polyethylene Plastic
Black
000000
00
000000
00000
000000
00