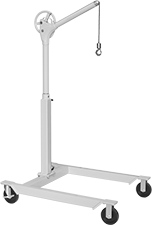 D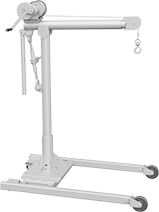 E
Also known as davit cranes, these lift objects out of holes such as sewers. An automatic brake holds your load securely when the handle is released.
Style D can be disassembled for convenient transport and storage.
Powder-coated steel cranes offer some corrosion resistance. Stainless steel cranes have the most corrosion resistance.
Install additional bases throughout your plant and move your hand-winch crane between them to use a single crane in multiple locations. They can also be used to replace existing bases.
Extensions (sold separately) add 15" of height to your crane.
Replacement headache balls keep cable taut when no load is attached.
Warning: Never use to lift people or items over people.
Bases for
Hand-Winch

Cranes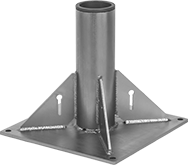 Floor Mount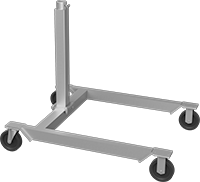 Mobile
Install these bases in different areas of your plant and slot in your hand-winch crane where needed. They can also be used to replace existing bases.
Galvanized steel bases have a thick coating for better corrosion resistance than zinc-plated steel bases, and are better for outdoor use than powder-coated steel bases.
Stainless steel bases are more corrosion resistant than steel bases.
For technical drawings and 3-D models, click on a part number.
Mounting
Location
tons

lbs.

tons

lbs.

tons

lbs.

For
Mast


Dia.

Distance
Between
Legs
Base


Ht.

Mounting
Hole


Dia.

Wd.

Lg.

Thick.

Wheel
Configuration
Wheel
Material
Each

Stationary

Galvanized Steel

Floor
__
__

1/2

1,000

1/4

500
3

1/2

"
__
14

3/8

"

11/16

"
15

7/8

"
15

7/8

"

3/8

"
__
__
00000000
0000000
Floor
__
__
1
2,000

1/2

1,000
4

1/2

"
__
14

3/8

"

11/16

"
15

7/8

"
15

7/8

"

1/2

"
__
__
00000000
000000
Floor

1/4

500
__
__
__
__
2

7/8

"
__
14

1/4

"

9/16

"
8

1/8

"
8

1/8

"

1/2

"
__
__
00000000
000000
Floor
__
__
1
2,000

1/2

1,000
4

1/2

"
__
14

3/8

"

11/16

"
15

7/8

"
15

7/8

"

1/2

"
__
__
00000000
000000

Stainless Steel

Floor
__
__
1
2,000

1/2

1,000
4

1/2

"
__
14

3/8

"

11/16

"
15

7/8

"
15

7/8

"

1/2

"
__
__
00000000
000000

Mobile

Freestanding

1/4

500
__
__
__
__
2

1/4

"
28"
38

5/8

"
__
__
__
__
Two Swivel and Two Rigid Casters
Rubber and Steel
0000000
00000000