Square-Shank

Boring Lathe Tools

TSA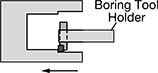 TSA
Insert the square shank of these tools into the slot of a boring tool holder and use them to enlarge existing holes to precise diameters.
TSA tools are for boring in a 90° boring tool holder.
C2 carbide tips are abrasion resistant and less likely to chip or crack than C6 carbide when cutting aluminum, brass, and bronze. C6 carbide tips hold up better than C2 carbide when making cuts in steel.
For technical drawings and 3-D models, click on a part number.
Tool Bit
Code

Wd.

Ht.

Overall


Lg.

Side Cutting
Edge Angle
End Cutting
Edge Angle
Radius

Wd.

Lg.

Thick.

For Use On
Each

C2 Carbide

Right Hand

TSA

TSA-5

5/16

"

5/16

"
1

1/2

"
0°
8°

1/64

"

3/16

"

5/16

"

3/32

"
Aluminum, Brass, Bronze
00000000
00000
TSA-6

3/8

"

3/8

"
1

3/4

"
0°
8°

1/64

"

3/16

"

5/16

"

3/32

"
Aluminum, Brass, Bronze
00000000
0000
TSA-8

1/2

"

1/2

"
2

1/2

"
0°
8°

1/32

"

5/16

"

7/16

"

1/8

"
Aluminum, Brass, Bronze
00000000
00000

C6 Carbide

Right Hand

TSA

TSA-5

5/16

"

5/16

"
1

1/2

"
0°
8°

1/64

"

3/16

"

5/16

"

3/32

"
Steel
00000000
0000
TSA-6

3/8

"

3/8

"
1

3/4

"
0°
8°

1/64

"

3/16

"

5/16

"

3/32

"
Steel
00000000
0000
TSA-8

1/2

"

1/2

"
2

1/2

"
0°
8°

1/32

"

5/16

"

7/16

"

1/8

"
Steel
00000000
00000