System of Measurement

System of Measurement
Warning: Products have one, but not necessarily all, of the selected characteristics.
DFARS (Defense Acquisition Regulations Supplement)

DFARS

(Defense

Acquisition
Regulations

Supplement)
Multisize Conduit and Pipe Bending Blankets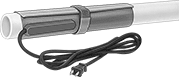 Heat PVC conduit and pipe, then manually bend it to your desired angle. This electric blanket wraps around your workpiece and secures with a hook-and-loop strap.
For Rigid
Conduit
Trade Size
For
Pipe
Size

For
Use
On
Material

Lg.

Wd.

Electrical
Connection
Type
Plug
Type
Voltage
Cord


Lg.,




ft.

Each

1/2

,

3/4

, 1, 1

1/4

, 1

1/2

1/2

,

3/4

, 1, 1

1/4

, 1

1/2

Plastic
Silicone Rubber/Vinyl Plastic
13"
8

1/4

"
Plug
Two Prong
120V AC
8
0000000
0000000
PVC Conduit

and Pipe Hand Benders

Make on-the-fly bends in Schedule 40 PVC conduit and pipe without the risk of kinks or cracks. Lightweight and flexible, these benders are easy to keep on hand for occasional use and last-minute adjustments. Insert them into your conduit or pipe and bend across your knee. They do not require heating or access to a power source; however, they're not as precise as traditional benders and only work with a single pipe size.