Threaded-Shank

Low-Scratch

Tube Brushes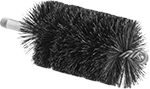 Tampico Bristles
Attach the shank to a handle or power tool. Use these brushes to clean delicate surfaces inside tubes, pipes, and holes. The bristles won't leave behind debris that could cause rust on your workpiece.
Tampico and cotton bristles are good for sweeping away dust or applying lubricants and polishing compounds.
For technical drawings and 3-D models, click on a part number.
Dia.

Lg.

Shape
Flexibility

No.

of
Spirals

No.

of
Wires
Wire
Material

O'all




Lg.

1-11

12-Up

Tampico

Bristles—

For Use On

Steel,

Stainless

Steel,

Titanium,

Aluminum,

Brass,

Bronze,

Copper,

Plastic

1/4

NPT Male Threaded Shank

2

1/2

"
4

1/2

"
Round
Flexible
1
2
Galvanized Steel
8"
0000000
000000
000000
3"
4

1/2

"
Round
Flexible
1
2
Galvanized Steel
8"
0000000
00000
00000
4"
4

1/2

"
Round
Flexible
1
2
Galvanized Steel
8"
0000000
00000
00000
5"
4

1/2

"
Round
Flexible
1
2
Galvanized Steel
8"
0000000
00000
00000
6"
4

1/2

"
Round
Flexible
1
2
Galvanized Steel
8"
0000000
00000
00000
7"
4

1/2

"
Round
Flexible
1
2
Galvanized Steel
8"
0000000
00000
00000
8"
4

1/2

"
Round
Flexible
1
2
Galvanized Steel
8"
0000000
00000
00000