Air-Powered

Tube Cleaners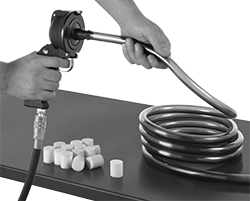 Launch foam cylinders through hose and tubing to power away dirt and deposits. Unlike cleaners with brushes, these work on flexible, curved, and coiled tubing as well as those with fittings, valves, and 90° bends. Connect the gun to your compressed air with the included quick-disconnect fitting. Attach a nozzle and load a cylinder that matches your tube ID, and then insert the nozzle into your tube and pull the trigger. To thoroughly clean the tubing, you may have to use a second cylinder. Cylinders are single use.
All of the gun and nozzle kits include a gun and nine nozzles for the following tube IDs: 1/4", 3/8", 1/2", 5/8", 3/4", 1", 1 1/4", 1 1/2", and 2". The cylinders are not included.
The nozzles for flared connections are for use with hose and tubing with female fittings that are flared to 37°, which are also known as JIC fittings.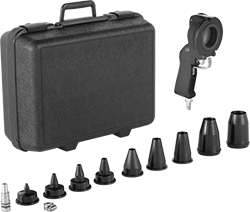 For
Tube
ID
Coupling
Size
Gender
Connection
Style

Min.




Pressure,


psi

Max.




Pressure,


psi

No.


of
Nozzles
Includes
Each

For Connections without Fittings

1/4

",

3/8

",

1/2

",

5/8

",

3/4

", 1", 1

1/4

", 1

1/2

", 2"

1/2

Male
Quick Disconnect
90
120
9

1/2

" Barbed Air Inlet Adapter, Hose Clamp
0000000
000000000

For Flared

37°

Connections

1/4

",

3/8

",

1/2

",

5/8

",

3/4

", 1", 1

1/4

", 1

1/2

", 2"

1/2

Male
Quick Disconnect
90
120
9

1/2

" Barbed Air Inlet Adapter, Hose Clamp
0000000
00000000

Cylinder