How to

Identify and Measure Fittings
Pipe size is an industry designation, not the actual size. View information about how to measure threaded and unthreaded pipe and pipe fittings.
About
Backflow-Prevention

Valves
Quick-Disconnect

Couplings for Plastic and Rubber

Tubing—

Chemicals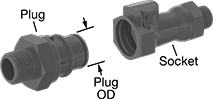 For Use

With:

Ammonia,

Ethanol,

Phosphoric Acid

(70%),

Sodium Carbonate
Temperature

Range:

32° to 160° F
Couplings consist of a plug and a socket (sold separately) that join with a latch, so you can frequently connect and disconnect your line. To connect, insert the plug into the socket; to disconnect, press the latch on the socket and remove the plug. Plugs and sockets are polypropylene, which has excellent chemical, impact, and abrasion resistance.
Plugs and sockets with shut-off have a valve to stop the flow when the coupling is separated so fluid won't spill from your line.
Note: For a complete coupling, order a plug and a socket with the same coupling size.
For technical drawings and 3-D models, click on a part number.
Metal Barbed Hose Fittings for Chemicals and Petroleum
Made of 316 stainless steel, these fittings have the corrosion resistance to stand up to a wide variety of chemicals, as well as fuels, gasoline, and oils. To connect, slide the barbed end into plastic or rubber hose and secure with a clamp.
Adapters are also known as hose nipples; they adapt a barbed end to a threaded end.
Connectors and reducers are also known as hose menders and splicers. Use them to connect lengths of hose or to repair damaged hose.
Metric and UN/UNF (SAE) male threads have a gasket to protect against leaks. UN/UNF (SAE) threads are also known as O-ring boss threads.
For technical drawings and 3-D models, click on a part number.
Check Valves with Barbed Fittings for Harsh Chemicals

Diaphragm Check Valve

Spring-Loaded
Ball Check Valve
Prevent backflow in chemical tubing lines. These valves have barbed fittings that grip onto tubing, providing a secure hold. The plastic body and fluoroelastomer seal provide excellent chemical resistance. Valves open to allow flow in one direction and close when flow stops or reverses.
PVDF valve resists abrasion and UV light.
Polypropylene valves are more corrosion resistant than nylon valves.
Nylon valves are more impact resistant than polypropylene valves.
Flow coefficient (Cv) is the amount of water (in gallons per minute) at 60° F that will flow through a fully open valve with a difference of 1 psi between the inlet and the outlet.
For technical drawings and 3-D models, click on a part number.
PVDF Plastic Body—Diaphragm
For Use

With:

Air,

Butane,

Chlorine,

Citric

Acid,

Deionized

Water,

Diesel

Fuel,

Ethanol,

Ethylene

Glycol,

Gasoline,

Hydrochloric

Acid,

Nitric

Acid,

Oil,

Propane,

Salt

Water,

Soap

Solutions,

Sodium

Hypochlorite,

Sulfuric

Acid,

Water
Diaphragm

Material:

Fluoroelastomer Rubber
Seal

Material:

Fluoroelastomer Rubber
For
Tube ID

Max.

Pressure

Min.

Opening


Pressure,

psi
Temperature


Range,

°F

Color

End-to-End




Lg.

Each

Barbed × Barbed

1/4

"
15 psi @ 70° F
0.5
-20° to 250°
White
1

21/32

"
00000000
00000
Polypropylene Plastic Body—Spring-Loaded Ball
For Use

With:

Acetone,

Air,

Argon,

Citric

Acid,

Deionized

Water,

Diesel

Fuel,

Ethanol,

Ethylene

Glycol,

Fuel

Oil,

Gasoline,

Helium,

Kerosene,

Krypton,

Mineral

Spirits,

Neon,

Nitrogen,

Oil,

Propane,

Salt

Water,

Soap

Solutions,

Toluene,

Water,

Xenon,

Xylene
Ball

Material:

316 Stainless Steel
Spring

Material:

302 Stainless Steel
Seal

Material:

Fluoroelastomer Rubber
Nylon Plastic Body—Spring-Loaded Ball
For Use

With:

Acetone,

Air,

Argon,

Citric

Acid,

Deionized

Water,

Diesel

Fuel,

Ethanol,

Ethylene

Glycol,

Fuel

Oil,

Gasoline,

Helium,

Kerosene,

Krypton,

Mineral

Spirits,

Neon,

Nitrogen,

Oil,

Propane,

Salt

Water,

Soap

Solutions,

Toluene,

Water,

Xenon,

Xylene
Ball

Material:

316 Stainless Steel
Spring

Material:

302 Stainless Steel
Seal

Material:

Fluoroelastomer Rubber