Carbon Fiber
Slip-On

Framing and Fittings
Stronger than plastic and aluminum, this is the lightest weight framing we offer. It has good resistance to chemicals and salt water. Slip the fittings over rails to construct custom railings, guard rails, storage racks, and shelving. Drill rails and connect fittings with the included hardware.
For technical drawings and 3-D models, click on a part number.
Telescoping
Ultra-Strength

Lightweight Carbon Fiber Hexagonal Tubes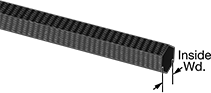 Color:

Black
Temperature

Range:

-65° F

to

180° F

Tensile

Strength:

120,000-175,

000 psi

(Excellent)

Fiber Tensile

Stiffness:

Standard

(33-36

msi)

Impact

Strength:

Not Rated

Hardness:

Not Rated

For Use

Outdoors:

No
These tubes are stiff and have tensile strength comparable to aluminum—but are still lightweight—and can be placed inside one another to create an adjustable-length tube that resists twisting. Because they have flat sides, they're easier to mount than round tubes. Use them to support moving equipment such as cameras and sensors. Built with a 0°/90° construction layup, they're crush resistant and good for transferring torque. These tubes have a checked, glossy exterior, the standard for carbon fiber. They can be given a clear coat or sanded down for a matte finish. All tubes are roll wrapped.
For secure telescoping, choose a tube one size larger than the tube you'll put inside it.
For technical drawings and 3-D models, click on a part number.
Width
Width Tolerance
Inside
Width
Weave
Type
Appearance
Each
Each

0.052"

Wall

Thick.

(-0.012" to 0.012")

0.729"
-0.018" to 0.018"

5/8

"
Twill
Checked, Glossy
0000000
000000
0000000
0000000
0.854"
-0.018" to 0.018"

3/4

"
Twill
Checked, Glossy
0000000
000000
0000000
000000
0.979"
-0.018" to 0.018"

7/8

"
Twill
Checked, Glossy
0000000
000000
0000000
000000
1.104"
-0.018" to 0.018"
1"
Twill
Checked, Glossy
0000000
000000
0000000
000000
1.229"
-0.018" to 0.018"
1

1/8

"
Twill
Checked, Glossy
0000000
000000
0000000
000000
1.354"
-0.018" to 0.018"
1

1/4

"
Twill
Checked, Glossy
0000000
000000
0000000
000000