Bend-and-Stay

Very Flexible Metal Duct Hose for Fumes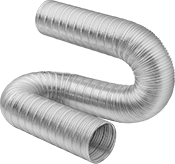 Very Flexible
Compatible

Clamps:

Worm-Drive and Twin-Ring Clamps
Temperature

Range:

Aluminum:

-100° to 400° F;

304 Stainless

Steel:

-400° to 800° F
Form elbows and bends with this hose and it will hold its shape without support. Hose is not for continuous flexing. Use with smoke, sparks, paint fumes, welding fumes, and oil fumes.
304 stainless steel is more durable than aluminum and has very good corrosion resistance.
Bend-and-Stay

Metal Duct Hose for Air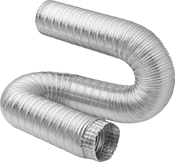 Unlike fabric duct hose, this lightweight aluminum hose can bend around corners and hold its shape. Hose is not for continuous flexing. One end of the hose is crimped; insert the crimped end into another piece of duct hose and secure with a clamp to create longer lengths. The hose may need support once the length exceeds 6 feet.
ID
OD
Bend
Radius
Compresses
To
Material


Thick.

Interior
Surface
Texture
Construction

Lg.,




ft.

Each

Aluminum

3"
3

1/4

"
1

1/2

"
35%
0.004"
Ribbed
Crimped Seam
7
00000000
00000
4"
4

1/4

"
2"
35%
0.004"
Ribbed
Crimped Seam
7
00000000
0000
5"
5

1/4

"
2

1/2

"
35%
0.004"
Ribbed
Crimped Seam
6

1/2

00000000
00000
6"
6

1/4

"
3"
35%
0.004"
Ribbed
Crimped Seam
6

1/2

00000000
00000
7"
7

1/4

"
3

1/2

"
35%
0.004"
Ribbed
Crimped Seam
6

1/2

00000000
00000
8"
8

1/4

"
4"
35%
0.004"
Ribbed
Crimped Seam
6
00000000
00000
9"
9

1/4

"
4

1/2

"
35%
0.004"
Ribbed
Crimped Seam
6
00000000
00000
10"
10

1/4

"
5"
35%
0.004"
Ribbed
Crimped Seam
6
00000000
00000
12"
12

1/4

"
6"
35%
0.004"
Ribbed
Crimped Seam
6
00000000
00000
14"
14

1/4

"
7"
35%
0.004"
Ribbed
Crimped Seam
6
00000000
00000