How to

Identify and Measure Fittings
Pipe size is an industry designation, not the actual size. View information about how to measure threaded and unthreaded pipe and pipe fittings.
High-Pressure

Plated Brass Threaded Pipe Nipples and Pipe
The plating on this pipe creates a shiny finish and provides extra protection in corrosive environments. It has the strength to handle high-pressure applications.
Nickel-plated brass pipe provides better corrosion resistance than unplated brass.
Fully threaded pipe is also known as a close nipple; it is threaded on each end to the center.
For technical drawings and 3-D models, click on a part number.
Anodized Architectural 6063 Aluminum Round Tubes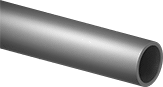 Yield

Strength:

16,

000 psi

Hardness:

Brinell 55

(Soft)

Temper: T5

Fabrication:

Extruded
Specifications

Met:

ASTM B221
The outside of these tubes is anodized to improve wear and corrosion resistance. Often called decorative anodize, the coating provides a uniform finish that readily accepts paint and adhesive. More corrosion resistant and easier to form than multipurpose 6061 aluminum, 6063 is primarily used for exterior railings, decorative trim, and door frames.
For technical drawings and 3-D models, click on a part number.

Certificates with a traceable lot number are available for these products. Download certificates from ORDER HISTORY after your order ships.
OD
ID
Heat
Treatment
Finish
Color
Temperature


Range,

°F

Straightness
Tolerance
Each

0.219"

Wall

Thick.

(-0.021" to 0.021" Tolerance)

7/8

"
0.438"
Hardened
Clear
-320° to 212°
0.010" per ft.
0000000
000000
Hollow Linear Motion Shafts
Shown with Bearing and Wiring
(Not Included)

Lighter than solid shafts, hollow shafts reduce your total system weight and allow you to run various media such as electrical wiring, compressed air tubing, coolants, or lubricants through the center. Smooth, hard, and wear resistant, linear motion shafts work with linear bearings to reduce friction in manual and automated systems, such as those found in packing, machine tool, and material handling operations. The smooth surface reduces friction and wear on the bearing—the lower the microinch value a shaft has, the smoother its finish and the less friction it will create. Shafts are case-hardened to increase hardness and wear resistance. Interior is unfinished; exterior is turned, ground, and polished to tight diameter and straightness tolerances. All are chamfered to remove sharp edges and reduce damage to bearings, housings, and other components during installation.
For technical drawings and 3-D models, click on a part number.
Lg.

Lg.


Tolerance

Dia.


Tolerance
ID
Tolerance
Surface


Smoothness,


microinch
Hardness
Rating
Hardness
Yield


Strength,


psi

Surface
Yield


Strength,

psi
Each
12"
-0.03" to 0.03"
-0.001" to -0.0005"
-0.0219" to 0.0219"
8
Very Hard
Rockwell C58
75,000
250,000
0000000
000000
18"
-0.03" to 0.03"
-0.001" to -0.0005"
-0.0219" to 0.0219"
8
Very Hard
Rockwell C58
75,000
250,000
0000000
00000
24"
-0.03" to 0.03"
-0.001" to -0.0005"
-0.0219" to 0.0219"
8
Very Hard
Rockwell C58
75,000
250,000
0000000
000000
36"
-0.03" to 0.03"
-0.001" to -0.0005"
-0.0219" to 0.0219"
8
Very Hard
Rockwell C58
75,000
250,000
0000000
000000
48"
-0.03" to 0.03"
-0.001" to -0.0005"
-0.0219" to 0.0219"
8
Very Hard
Rockwell C58
75,000
250,000
0000000
000000
60"
-0.03" to 0.03"
-0.001" to -0.0005"
-0.0219" to 0.0219"
8
Very Hard
Rockwell C58
75,000
250,000
0000000
000000