About
Copper,

Brass,

and Bronze
About Plastic and Rubber Tubing
Extreme-Temperature

Spiral Flexible Hard Plastic Tubing for Chemicals

Flexible
Hard

(Durometer

60D)

Temperature

Range:

-450° to 500° F
Not only can this Teflon® PTFE tubing handle a wide temperature range, it also has a convoluted spiral design for good flexibility and smooth flow. It has a cuff on each end for smooth connections. Connect tubing to fittings with a worm-drive clamp (sold separately). Tubing has the chemical resistance to withstand a wide range of acids and other harsh substances. It meets USP Class IV for material testing; it is not for use in medical applications. Tubing meets UL 94 V-0 for flame retardance, so it delays the spread of flames to valuable equipment. It is semi-clear, so it gives you a limited view inside your line.
Ultra-Formable

260 Brass Round Tubes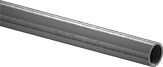 The most formable brass we offer, 260 offers better weldability than 300 series brass but it's not as machinable. Sometimes called cartridge brass, it's commonly used for ammunition casings, radiator components, and decorative door hardware.
Tubes with 0.014" and 0.45 mm wall thicknesses allow you to create telescoping tubes; each tube fits inside the next larger size.
For technical drawings and 3-D models, click on a part number.
Yield

Strength:

Not Rated

Hardness:




0.014"

wall

thick.:

Not Rated
All other

sizes:

Rockwell B55

(Soft)

Temper:




0.014"

wall

thick.:

H02 (

1/2

Hard)

to H03 (

3/4

Hard)


All other

sizes: H58

Heat

Treatable:

No
Specifications

Met:

ASTM B135
Extra Thermally
Shock-Resistant

Single-Closed-End

SiAlON Ceramic Tubes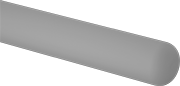 Closed End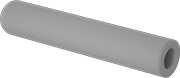 Open End
Color:

Gray
Maximum

Temperature:

1,830° F

Fabrication:

Fired

Porosity: 0%

Compressive

Strength:

510,

000 psi
Often used as a protective shield in thermocouples and other conditions with drastic climate changes, these SiAlON ceramic tubes won't deform, expand, or crack when repeatedly exposed to large temperature changes. Submerge the closed end of the tube into harsh settings, such as tanks and furnaces, to protect contents from coming into contact with harmful liquids and gases.
These tubes are stronger and resist thermal shock better than mullite and alumina, though they don't remain as stable in ultra-high temperatures. They're not as hard as silicon carbide, so they shouldn't be used when wear resistance is necessary. Because they hold up to chemicals, they're good for use with molten metal, such as aluminum and zinc. Similar to nonporous alumina, these tubes help seal out gas and liquids.
For technical drawings and 3-D models, click on a part number.