How to

Identify and Measure Fittings
Pipe size is an industry designation, not the actual size. View information about how to measure threaded and unthreaded pipe and pipe fittings.
About Carbon
Steel,

Alloy

Steel,

Spring

Steel,

and Cast Iron
Standard-Wall

Plastic Pipe for Water
Connect this pipe to standard-wall plastic pipe fittings for a variety of residential and commercial low-pressure plumbing and water supply applications. It's made of PVC, which has good corrosion resistance. Connect to unthreaded female socket-connect fittings using a PVC primer and cement (also known as solvent weld).
Pipe for drinking water meets NSF/ANSI Standard 61.
Pipe that meets ASTM D1784 and ASTM D1785 adheres to specifications and testing requirements for material quality.
Bend radius is the point to which you can bend pipe or tubing without damaging it. The smaller the measurement, the better the bend.
Warning: Never use plastic pipe fittings and pipe with compressed air or gas.
For technical drawings and 3-D models, click on a part number.
Low-Carbon

Steel Round Tubes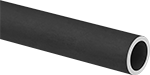 Also known as mild steel, low-carbon steel is easy to machine, form, and weld. It's widely fabricated into parts that don't require high strength, such as fixture clamps, mounting plates, and spacers.
For technical drawings and 3-D models, click on a part number.

Certificates with a traceable lot number are available for these products. Download certificates from ORDER HISTORY after your order ships.
Ultra-High-Temperature

Quartz Glass Tubes

Color:

Clear

Max.

Temperature:

2000° F

Fabrication:

Annealed
Blistering temperatures won't melt these quartz tubes, and rapid temperature shifts won't cause them to crack. Even tougher than borosilicate, they can be used in furnaces and ovens heated up to 2000° F. These highly pure tubes are often used in laboratories because they won't leach impurities into samples or contaminate chemical reactions. Quartz tubes are optically clear and have excellent UV transmission, making them ideal for UV purification systems.
For technical drawings and 3-D models, click on a part number.
OD
ID
Wall


Thick.

Edge
Fabrication
Each

Metric

20mm
17.000mm
1.5mm
Ground
0000000
000000