About Selecting Thermal Insulation
Clear
Scratch-

and

UV-Resistant

Cast Acrylic Tubes

Color:

Clear
Temperature

Range:

0° to 150° F

Tensile

Strength:

10,000-11,

250 psi

(Good)

Impact

Strength:

0.3-0.

4

ft.

-

lbs./in.

(Poor)

Hardness:

Rockwell

M94-M100

(Hard)

For Use

Outdoors:

Yes
Specifications

Met:

See table
Fabricate containers, tanks, and lenses for light fixtures with these scratch- and UV-resistant cast acrylic tubes. Cast acrylic, which is comparable to Lucite and Plexiglas® Acrylic, is easier to machine than extruded acrylic. This material stands up to outdoor use better than polycarbonate and maintains clarity over time.
For technical drawings and 3-D models, click on a part number.
Hook-and-Loop

Wrap-Around

Sleeving for Universal Robots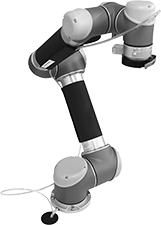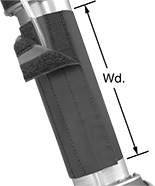 Organize and protect the cables and tubing on your Universal Robots arm without hindering its movement. This sleeving is made for Universal Robots arms, so you don't need to measure, cut, or customize for a good fit. The hook-and-loop closure makes installation quick, and unlike cable ties, it's easy to detach and adjust. Cables run through a separate channel, so you can access them without removing the sleeving from your arm. Made from polyurethane, this sleeving is flexible enough for cables and tubing to move easily, and durable enough to withstand continuous movement. It's also lighter than hose carriers and conduit, so it won't weigh down your robot arm. Each includes two pieces of sleeving.
ID

Wd.

Lg.

Wall


Thick.

Temperature


Range,

°F

Features
Cable
Opening

Wd.

Color
Each

Polyurethane Rubber

For UR5 and UR5e Series Robot Arms

3"
3

3/8

"
8"
8"
13

1/2

"
14

3/4

"
0.018"
-60° to 200°
Cable Channel
1"
Black
00000000
0000000

For UR10 and UR10e Series Robot Arms

3

3/8

"
4

1/4

"
14"
14"
14

7/8

"
17

3/4

"
0.018"
-60° to 200°
Cable Channel
1"
Black
00000000
00000
Flexible Rubber Foam Pipe Insulation
Soft and easy to install, this insulation restricts absorption of water, air, and gas. It is often used on cold and hot water lines and refrigeration lines. Seal with contact adhesive (sold separately). To use outdoors, coat in acrylic paint.

Elbow
Temperature

Range:

-295° to 220° F

Heat Flow

Rate:

0.

25

Btu @

75° F

Density:

4.

5

lbs./cu.

ft.

Color:

Black
Specifications

Met:

ASTM E84

25/50

for Flame and

Smoke,

ASTM C534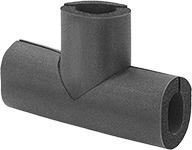 Tee
Temperature

Range:

-295° to 220° F

Heat Flow

Rate:

0.

25

Btu @

75° F

Density:

4.

5

lbs./cu.

ft.

Color:

Black
Specifications

Met:

ASTM E84

25/50

for Flame and

Smoke,

ASTM C534