About Selecting Thermal Insulation
Clear
Scratch-

and

UV-Resistant

Cast Acrylic Tubes

Color:

Clear
Temperature

Range:

0° to 150° F

Tensile

Strength:

10,000-11,

250 psi

(Good)

Impact

Strength:

0.3-0.

4

ft.

-

lbs./in.

(Poor)

Hardness:

Rockwell

M94-M100

(Hard)

For Use

Outdoors:

Yes
Specifications

Met:

See table
Fabricate containers, tanks, and lenses for light fixtures with these scratch- and UV-resistant cast acrylic tubes. Cast acrylic, which is comparable to Lucite and Plexiglas® Acrylic, is easier to machine than extruded acrylic. This material stands up to outdoor use better than polycarbonate and maintains clarity over time.
For technical drawings and 3-D models, click on a part number.
Flexible Rubber Foam Pipe Insulation
Soft and easy to install, this insulation restricts absorption of water, air, and gas. It is often used on cold and hot water lines and refrigeration lines. Seal with contact adhesive (sold separately). To use outdoors, coat in acrylic paint.

Elbow
Temperature

Range:

-295° to 220° F

Heat Flow

Rate:

0.

25

Btu @

75° F

Density:

4.

5

lbs./cu.

ft.

Color:

Black
Specifications

Met:

ASTM E84

25/50

for Flame and

Smoke,

ASTM C534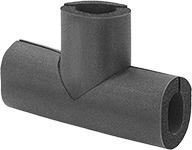 Tee
Temperature

Range:

-295° to 220° F

Heat Flow

Rate:

0.

25

Btu @

75° F

Density:

4.

5

lbs./cu.

ft.

Color:

Black
Specifications

Met:

ASTM E84

25/50

for Flame and

Smoke,

ASTM C534