About Selecting Thermal Insulation
Clear
Scratch-

and

UV-Resistant

Cast Acrylic Tubes

Color:

Clear
Temperature

Range:

0° to 150° F

Tensile

Strength:

10,000-11,

250 psi

(Good)

Impact

Strength:

0.3-0.

4

ft.

-

lbs./in.

(Poor)

Hardness:

Rockwell

M94-M100

(Hard)

For Use

Outdoors:

Yes
Specifications

Met:

See table
Fabricate containers, tanks, and lenses for light fixtures with these scratch- and UV-resistant cast acrylic tubes. Cast acrylic, which is comparable to Lucite and Plexiglas® Acrylic, is easier to machine than extruded acrylic. This material stands up to outdoor use better than polycarbonate and maintains clarity over time.
For technical drawings and 3-D models, click on a part number.
Chemical-Resistant

Cellular Glass Pipe Insulation
Very rigid with a 0% water absorption rate, this insulation is unaffected by corrosive environments, organic solvents, and most acids. It is typically used in chemical-processing systems and underground lines. Insulation is flame resistant, meeting ASTM E84 0/0 for flame and smoke. Seal with tape (sold separately). Outdoor and underground use require metal jacketing (sold separately).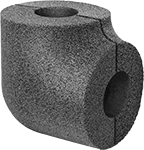 Elbow
Temperature

Range:

-450° to 900° F

Heat Flow

Rate:

0.

29

Btu @

75° F

Density:

7.

5

lbs./cu.

ft.

Color:

Black
Specifications

Met:

ASTM C522 Grade

6,

ASTM E84

0/0

for Flame and Smoke
ID
Flexibility
Choose a Pipe Fitting
Connection Type

R Value

Each
5

5/8

"
Rigid
5.2
0000000
000000