About Plastic and Rubber Tubing
Large-Diameter

Thin-Wall

Firm Rubber Tubing for

Food,

Beverage,

and Dairy

Flexible
Firm

(Durometer

80A)

Temperature

Range:

-40° to 190° F
Sized for vibrating sifters, screeners, hoppers, and packaging equipment, this tubing has a diameter of 4" or larger to handle a variety of bulk food processing applications. It is made of FDA listed materials. Free of plasticizers like DEHP, it won't impart tastes or odors to the product passing through it. Tubing is polyurethane for excellent resistance to abrasion and tearing. The tubing material is ether based, so the tubing won't degrade in humid environments. Tubing is clear, so you can see inside the line to monitor flow. It is flexible and bends easily around objects.
Tubing connects to fittings with a worm-drive clamp (sold separately).
For technical drawings and 3-D models, click on a part number.
High-Temperature

Rigid Metal Duct Hose for Fumes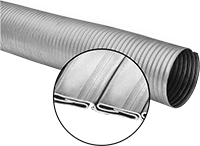 Rigid
Compatible

Clamps:

U-Bolt Clamps

Max.

Temperature:

Galvanized

Steel:

750° F;

Aluminum:

450° F;

304 Stainless

Steel:

1500° F;

316 Stainless

Steel:

1200° F
Metal interlocked strips create a rigid, durable hose that stays strong under high temperatures. Hose is for use with smoke, welding fumes, and oil fumes.
Galvanized steel offers fair corrosion resistance.