About Plastic and Rubber Tubing
Large-Diameter

Soft Rubber Tubing for Food and Beverage

With a diameter of 2" or larger, this tubing has the girth to handle high-volume beverage and bulk food processing applications. It has excellent abrasion and tear resistance. Tubing is made of FDA listed materials. It doesn't contain plasticizers like DEHP, so it won't impart tastes or odors to the product passing through it. Tubing is opaque, so you cannot see inside the line to monitor flow.
Tubing connects to fittings with a worm-drive clamp (sold separately).
Gum rubber tubing holds up under lower temperatures than neoprene rubber tubing. It is best suited for dry foods. Tubing is flexible, so it bends easily around objects.
For technical drawings and 3-D models, click on a part number.
Flexible Duct Hose with Wear Strip for Corrosive Fumes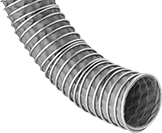 PTFE-Coated
Fiberglass Hose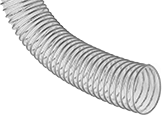 Flexible
Compatible

Clamps:

Worm-Drive Clamps

Color:

Gray or

Clear;

Wear Strip is Silver
Temperature

Range:

-65° to 500° F
Not only does this hose stand up to corrosive fumes, it has a metal spiral on the outside that acts as a wear strip to protect against damage.
PTFE-coated fiberglass hose is for use with smoke, butyl acetate fumes, and nitric acid fumes.
PFA plastic hose is clear so you can see inside your line. It meets UL 94 V-0 for flame retardance. Use with smoke, paint fumes, sodium hydroxide fumes, and sulfuric acid fumes.
ID
OD
Bend
Radius
Compresses
To

Max.


Vacuum

Max.


Pressure
Material


Thick.

Interior
Surface
Texture
Direction
Material
Specifications
Met

Max.


Continuous


Lg.,

ft.

1-24

25-Up

Gray

PTFE-Coated

Fiberglass

14"
14

1/4

"
21"
25%
0.2 in. of Hg @ 72° F
1 psi @ 72° F
0.016"
Ribbed
Left Hand
Metal
__
25
00000000
0000000
0000000

Clear PFA Plastic

14"
14

1/4

"
21"
20%
0.2 in. of Hg @ 72° F
2 psi @ 72° F
0.005"
Ribbed
Left Hand
Metal
UL 94 V-0

25
00000000
000000
000000
Bend-and-Stay

Metal Duct Hose for Air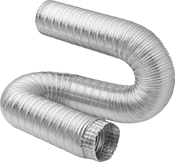 Unlike fabric duct hose, this lightweight aluminum hose can bend around corners and hold its shape. Hose is not for continuous flexing. One end of the hose is crimped; insert the crimped end into another piece of duct hose and secure with a clamp to create longer lengths. The hose may need support once the length exceeds 6 feet.
ID
OD
Bend
Radius
Compresses
To
Material


Thick.

Interior Surface
Texture
Construction

Lg.,




ft.

Each

Aluminum

14"
14

1/4

"
7"
35%
0.004"
Ribbed
Crimped Seam
6
00000000
000000