About Selecting Thermal Insulation
Fiberglass Pipe Insulation
This common insulation material is typically used on hot and cold water lines and in process piping. To use outdoors, add metal jacketing.
Tubes, elbows, and tees are formed to provide the best fit on pipe and are the easiest to install. If your pipe is larger than the sizes we offer, choose a sheet/strip.
Tubes have an all-service jacket (ASJ) made of kraft paper with an adhesive strip closure. Seal with reinforced insulation tape (sold separately).
For technical drawings and 3-D models, click on a part number.
Tubes with Kraft Paper Jacketing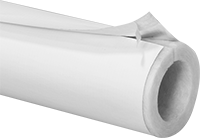 Tube
Temperature

Range:

0° to 850° F

Jacket Temperature

Range:

-20° to 150° F

Heat Flow

Rate:

0.

23

Btu @

75° F

Density:

4.

5

lbs./cu.

ft.

Color:

Yellow
Jacket

Color:

White
Specifications

Met:

ASTM E84

25/50

for Flame and

Smoke,

ASTM

C547,

ASTM C585