High-Temperature

Rigid Metal Duct Hose for Fumes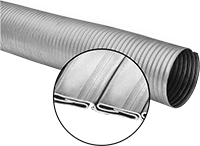 Rigid
Compatible

Clamps:

U-Bolt Clamps

Max.

Temperature:

Galvanized

Steel:

750° F;

Aluminum:

450° F;

304 Stainless

Steel:

1500° F;

316 Stainless

Steel:

1200° F
Metal interlocked strips create a rigid, durable hose that stays strong under high temperatures. Hose is for use with smoke, welding fumes, and oil fumes.
Galvanized steel offers fair corrosion resistance.
Bend-and-Stay

Metal Duct Hose for Air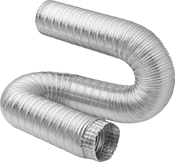 Unlike fabric duct hose, this lightweight aluminum hose can bend around corners and hold its shape. Hose is not for continuous flexing. One end of the hose is crimped; insert the crimped end into another piece of duct hose and secure with a clamp to create longer lengths. The hose may need support once the length exceeds 6 feet.
ID
OD
Bend
Radius
Compresses
To
Material


Thick.

Interior Surface
Texture
Construction

Lg.,




ft.

Each

Aluminum

9"
9

1/4

"
4

1/2

"
35%
0.004"
Ribbed
Crimped Seam
6
00000000
000000