Turn-Counting

Indicating Knobs

1

2

3

4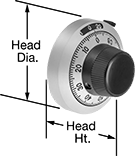 5
For monitoring the number of shaft turns on instrumentation, these knobs have easy-to-read scales or digits for quick and accurate readings. Use them on devices with round shafts. To secure these knobs in place, tighten the set screw.
Plastic knobs are a lightweight alternative to metal. They resist oil, grease, and solvents.
Aluminum knobs have mild corrosion resistance, are lightweight, and are nonmagnetic.
For technical drawings and 3-D models, click on a part number.
Dia.

Ht.

Max.

Knob
Turns

Wd.

Material

Ht.

Dia.

Dp.

Set Screw
Included
Temperature


Range,

°F

Each

Black

Plastic—

For Round Shafts

7/8

"
1"
20
__
__
__

1/4

"

15/16

"
Yes
35° to 400°
0000000
000000

Black

Aluminum—

For Round Shafts

1"
1"
10
__
__
__

1/4

"

13/16

"
Yes
35° to 400°
0000000
00000

Black

Plastic—

For Round Shafts

1

1/16

"
1

1/4

"
10
__
__
__

1/4

"

11/16

"
Yes
-20° to 185°
0000000
00000

Black

Plastic—

For Round Shafts

9/16

"
1"
10
1"
Aluminum
1

3/4

"

1/4

"
1"
Yes
-20° to 185°
0000000
000000

Black

Plastic—

For Round Shafts

7/8

"

7/8

"
15
__
__
__

1/8

"

13/16

"
Yes
Not Rated
000000
00000

7/8

"

15/16

"
15
__
__
__

1/4

"

13/16

"
Yes
Not Rated
0000000
00000
1

13/16

"
1"
20
__
__
__

1/4

"

15/16

"
Yes
Not Rated
0000000
00000