Choosing an Electrical Switch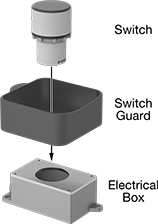 It takes two hands to activate these switches, minimizing the risk of accidental equipment start up. A complete system requires two switches, one safety relay, and two outlet boxes.
Switches meet OSHA requirements and ANSI standards for machine operator safety. They're rated IP64 for protection from splashing water.
Safety relays control the two switches by sending an output signal when both switches are activated within 0.5 seconds of each other. Self-monitoring circuitry offers additional protection—if any part of the system fails, the entire system shuts down until repaired.
Outlet boxes have a drilled hole to fit the switch.
Switch guards protect switches against damage and accidental activation. Use one guard per switch.
For technical drawings and 3-D models, click on a part number.