Impact-

and

Chemical-Resistant

PVC Rods

Color:

Gray
Temperature

Range:

-40° to 140° F

Tensile

Strength:

5,600-6,

700 psi

(Good)

Impact

Strength:

10-18

ft.

-

lbs./in.

(Excellent)

Hardness:

Rockwell

R111-R116

(Hard)

For Use

Outdoors:

No
Specifications

Met:

UL 94 V-0
With nearly the same chemical resistance as standard PVC Type 1, these PVC Type 2 rods are more impact resistant. Use them to make parts for chemical-processing applications where protection from bumps and strikes is required. They offer excellent formablility and are good electrical insulators.
For technical drawings and 3-D models, click on a part number.
Plastic Welding Rods for PVC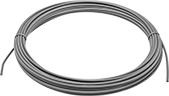 Type I PVC is rigid; Type II PVC is flexible.