Medium-Pressure

Copper Tubing for Drinking Water
This Type L tubing has thicker walls than Type M tubing to handle higher pressures. It is also known as copper pipe. Tubing has good corrosion resistance and excellent heat transfer qualities. It is seamless, so it has a smooth interior for unrestricted flow. It meets NSF/ANSI 61 safety standards for use with drinking water systems.
Coiled tubing can be flared without splitting.
Note: Copper tube size is an accepted industry designation, not an actual size.
For technical drawings and 3-D models, click on a part number.

Straight
Copper
Tube
Size

OD
Wall


Thick.

ID

Max.


Pressure
Temper
Rating
Copper
Tube
Type

Specifications
Met

2 ft.

5 ft.

10


ft.

1/4

3/8

"
0.03"
0.315"
1,500 psi @ 72° F
Hard
L

ASTM B88, NSF/ANSI 61
00000000

3/8

1/2

"
0.035"
0.43"
1,300 psi @ 72° F
Hard
L

ASTM B88, NSF/ANSI 61
00000000

1/2

5/8

"
0.04"
0.545"
1,200 psi @ 72° F
Hard
L

ASTM B88, NSF/ANSI 61
00000000

5/8

3/4

"
0.042"
0.666"
1,000 psi @ 72° F
Hard
L

ASTM B88, NSF/ANSI 61
00000000

3/4

7/8

"
0.045"
0.785"
1,000 psi @ 72° F
Hard
L

ASTM B88, NSF/ANSI 61
00000000
1

1

1/8

"
0.05"
1.025"
850 psi @ 72° F
Hard
L

ASTM B88, NSF/ANSI 61
00000000
1

1/4

1

3/8

"
0.055"
1.265"
750 psi @ 72° F
Hard
L

ASTM B88, NSF/ANSI 61
00000000
1

1/2

1

5/8

"
0.06"
1.505"
700 psi @ 72° F
Hard
L

ASTM B88, NSF/ANSI 61
00000000
2

2

1/8

"
0.07"
1.985"
620 psi @ 72° F
Hard
L

ASTM B88, NSF/ANSI 61
00000000
2

1/2

2

5/8

"
0.08"
2.465"
570 psi @ 72° F
Hard
L

ASTM B88, NSF/ANSI 61
00000000
3

3

1/8

"
0.09"
2.945"
540 psi @ 72° F
Hard
L

ASTM B88, NSF/ANSI 61
00000000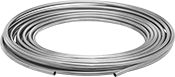 Coil
Copper
Tube
Size

OD
Wall


Thick.

ID

Max.


Pressure
Temper
Rating
Copper
Tube
Type

Specifications
Met
60


ft.

100


ft.

1/4

3/8

"
0.03"
0.315"
910 psi @ 72° F
Soft
L

ASTM B88, NSF/ANSI 61
00000000

3/8

1/2

"
0.035"
0.43"
770 psi @ 72° F
Soft
L

ASTM B88, NSF/ANSI 61
00000000

1/2

5/8

"
0.04"
0.545"
720 psi @ 72° F
Soft
L

ASTM B88, NSF/ANSI 61
00000000

5/8

3/4

"
0.042"
0.666"
630 psi @ 72° F
Soft
L

ASTM B88, NSF/ANSI 61
0000000

3/4

7/8

"
0.045"
0.785"
580 psi @ 72° F
Soft
L

ASTM B88, NSF/ANSI 61
00000000
1

1

1/8

"
0.05"
1.025"
490 psi @ 72° F
Soft
L

ASTM B88, NSF/ANSI 61
00000000