DFARS (Defense Acquisition Regulations Supplement)

DFARS

(Defense

Acquisition
Regulations

Supplement)
Transmit data between computers and other devices that have different USB sizes or styles. All USB adapters are backward compatible, so they work with cords and connectors that meet the same or a lower USB standard.
For technical drawings and 3-D models, click on a part number.
USB C Male × 3.5 mm Stereo Female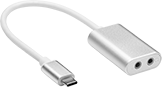 USB
Standard
Number of Stereo
Connections
Housing
Material
Color
Cord


Lg.

Each
2.0
2
Aluminum
Silver
8"
00000000
000000