Ultraviolet Curing Chambers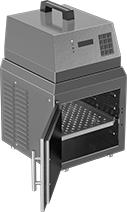 Use these chambers to dry coatings, inks, paints, and light-activated adhesives, or strengthen and finish 3D-printed parts made of liquid resin. With a light intensity five times greater than our bench-top ultraviolet lamp, these chambers work five times as quickly, cutting down curing time to seconds or minutes. The greater intensity also creates a deeper cure in your part. Light reflects off the chamber walls to give your piece a more consistent cure throughout, as well. The aluminum housing protects you by containing UV rays, and an automatic lamp shutter blocks light even when the door is open. Still, users should always wear UV-protective glasses and clothing when the system is turned on.
Setup is simple: Place the lamp on top of the housing, plug it into an electrical outlet, and the unit is ready to cure. The lamp's light intensity is adjustable, so you can turn it down to avoid damaging sensitive material. An adjustable shelf accommodates items small to large. A timer ensures that the lamp won't stay on for too long, leaving you free to do other tasks. With a handle on top, these chambers can be moved easily around your facility.
To remotely control and monitor, connect to PLCs using the 15-pin D-sub connector. Cord included.
Chambers and replacement bulbs cannot be sold to Canada due to regulations limiting mercury content.
For technical drawings and 3-D models, click on a part number.
Light
Intensity

Wavelength,


nm

Ht.

Wd.

Dp.

Ht.

Wd.

Dp.

No.


of
Shelves
Shelf
Type

Max.


Wattage
per

Bulb,

W

No.

of
Bulbs
Included
NEMA
Style
Cord


Lg.,




ft.

Housing
Material
Includes
Each

120V

AC/240V

AC—

Three Prong Plug

115 mW/cm² @ 3"
320-390
9"
9"
10

1/4

"
19"
12"
16"
1
Adjustable
400
1
5-15
7

1/2

Aluminum
UV Protective Glasses
0000000
000000000
| | | | |
| --- | --- | --- | --- |
| Replacement Bulb | 0000000 | Each | 0000000 |
Ultraviolet Disinfectant Chambers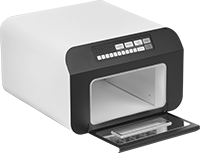 Digital Display
These chambers kill viruses, bacteria, and other microbes with ultraviolet germicidal irradiation (UVGI). Use them to disinfect small items, especially those that could be damaged by liquid chemical cleaners. They're enclosed to protect users, with a UV-blocking window and an auto shut-off function if the door is opened while they're running. Similar to microwaves, these chambers let you adjust energy and time settings based on what you're putting inside. Program up to 10 presets to save time when disinfecting with frequently used settings. A built-in radiometer monitors UV levels, making sure the correct level of UVGI energy is delivered even as the bulbs age. Bulbs should be replaced after 5,000 hours of use.
For technical drawings and 3-D models, click on a part number.
Light
Intensity

Wavelength,


nm
Maximum
Wattage
per Bulb
Number
of Bulbs
Required
Bulbs
Included
Height
Width
Depth
Height
Width
Depth
Plug
Type
Cord


Length,




ft.

Material
Color
Each
7 mW/cm 2 @ 6"
254
8W
6
Yes
6"
11"
14"
10

1/2

"
16"
17"
Three Prong
8
Aluminum
Black, White
0000000
000000000