About Air Filter Efficiency Ratings
Long-Life

Ultra-Efficiency

Box Air Filters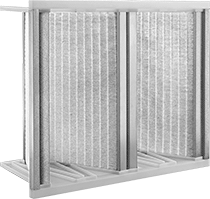 Four Panels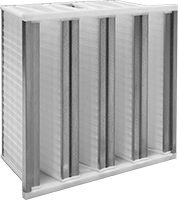 Eight Panels
Multiple panels maximize filtering surface area for long service life. These MERV 14 air filters capture particles down to 0.3 microns. They have a rigid frame that withstands fluctuations in airflow, such as those created by variable air volume systems.
Actual size is up to 5/8" less than trade size.
Eight-panel filters have more surface area than four-panel filters for an even longer service life.
For technical drawings and 3-D models, click on a part number.
Trade
Size
MERV Filter
Rating

0.3


Microns

1 Micron

3 Microns

Removes Particle
Size Down


To,

microns
Material
Frame
Material

Max.




Temperature,




°F

Each
12 × 24
14

75%
90%
95%
0.3
Fiberglass
Plastic
180°
0000000
000000
20 × 24
14

75%
90%
95%
0.3
Fiberglass
Plastic
180°
0000000
000000
24 × 24
14

75%
90%
95%
0.3
Fiberglass
Plastic
180°
0000000
000000
12 × 24
14

75%
90%
95%
0.3
Fiberglass
Plastic
180°
0000000
000000
20 × 24
14

75%
90%
95%
0.3
Fiberglass
Plastic
180°
0000000
000000
24 × 24
14

75%
90%
95%
0.3
Fiberglass
Plastic
180°
0000000
000000