V-Belt

and Pulley Trade Size Identifiers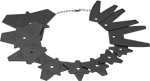 Measure V-belt cross sections and pulley groove depths to select the correct size belt. Individual pieces are connected with a ball chain.
For Belt Trade Size

For Use With

(No. of Pieces)

Material
Color
Each
3V, 5V, 8V, A, B, C, D, E

V-Belts (3), V-Belt Pulleys (8)
Plastic
Blue
0000000
000000
V-Belt

Trade Number Identifiers

Quickly determine the size of any belt.
For Belt
Trade Size

For Belt Trade
Number
Material
Color
Each
2L, 3L, 4L, 5L

2L170 to 2L1020
3L175 to 3L1040
4L185 to 4L1050
5L205 to 5L1070
Aluminum and Plastic
Orange
0000000
0000000