Vacuum Aspiration Systems
Vacuum up liquid for sampling and disposal using these compact and portable systems. Running their pump draws liquid through the tubing and into a collection bottle. An inline filter protects the pump motor from liquid and other contaminants.
1-gal. systems need a pipette or disposable dropper (sold separately) placed in the free end of the aspirator tubing.
68-oz. systems have a gauge and adjustment knob for changing the vacuum pressure to suit your application. Apply vacuum pressure by pressing the button on the hand-held controller, which is convenient for prolonged use. These systems include an adapter with a stainless steel tip that's good for vacuuming small amounts of liquid with precision. There's also an adapter for using them with pipette tips (sold separately). To measure how much liquid you collect, the collection bottle has graduation marks.
Adapters with stainless steel tips give you extra control, which is useful for vacuuming small amounts of liquid from precise areas.
Adapters with eight channels vacuum eight streams of liquid at once. For those without tips, attach eight of your own pipette tips.
Add quick-disconnect kits to easily attach and detach your tubing from the collection bottle's lid.
Vacuum Aspiration Systems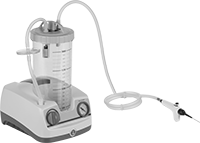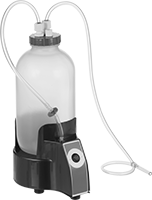 Capacity

Grad.


Marks
Flow


Rate,


gpm
Vacuum


Range,




in.

of Hg
ID
Length
Material
Height
Width
Depth
Autoclavable

Temp.




Range,




°F

Specifications
Met

Includes
Each

Polycarbonate Plastic Bottle and ABS Plastic Base

68 oz. / 2,000 ml
100 ml
4
1 to 22

1/4

"
39"
Silicone Rubber
13

1/2

"
8"
9

1/2

"
Yes
45° to 95°
CE Marked

Adapter for Pipette Tips, Adapter with 1

1/2

" Stainless Steel Tip, Graduated Collection Bottle, Hand-Held Controller, Inline Filter, Vacuum Gauge, Vacuum Pressure Adjustment Knob
000000
0000000

Polypropylene Plastic Bottle and Polypropylene Plastic Base

1 gal. / 3,800 ml
__
3.4
__

1/4

"
39"
PVC Plastic
16

1/2

"
6

3/4

"
9"
Yes
45° to 95°
UL Listed

Inline Filter
000000
000000
Pipette Tips for 68-oz. System
Quick-Disconnect Kits for 68-oz. System

| | | |
| --- | --- | --- |
| Includes | | Each |
| Male and Female Adapters, Silicone Tubing | 00000000 | 0000000 |
Pipettes for 1-gal. System
Capacity,


ml
Graduation
Marks
Diameter
Length
Material
Color
Band
Color
Each
1
0.1 ml

1/4

"
13

3/4

"
Borosilicate Glass
Clear
Red
0000000
000000
Vacuum Samplers for Liquids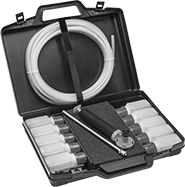 Pump the handle to draw liquid out of a tank or drum through a hose into sample bottles. Only the hose and hose weight come into contact with the liquid, reducing the possibility of cross contamination.
No.


of
Bottles

Cap.,


ml

Ht.

Wd.

Dp.

Material
ID
OD

Lg.,




ft.

Material
Weight
Material
Pump
Material

Max.




Temp.,




°F

Includes
Each
10
100
4

1/4

"
1

3/4

"
1

3/4

"
Polyethylene Plastic
0.24"
0.31"
32
Polyethylene Plastic
304 Stainless Steel
Polyethylene Plastic
140°
20 Tamper Seal Labels, Hose Cutter, Case
0000000
0000000