How to

Identify and Measure Fittings
Pipe size is an industry designation, not the actual size. View information about how to measure threaded and unthreaded pipe and pipe fittings.
Wye-Shaped

On/Off

Valves with Garden Hose Threads

Four Outlets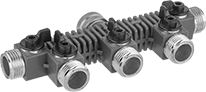 Five Outlets
Convert one faucet into two, four, or five convenient outlets. Each outlet has individually operated shutoff valves.
Plastic valves are lighter than brass or zinc valves, and are durable enough to hold up to impacts and abrasion. They have good corrosion resistance.
Zinc valves have good corrosion resistance. Some also have a TPR rubber or plastic coating to protect your hands—the coating keeps valves from getting hot in the sun or cold in the winter.
Brass valves are softer than zinc and plastic, so they're easier to thread together. They're also corrosion resistant.
No.

of
Outlets

Max.

Pressure

Temp.




Range,

°F

Includes
Each

Plastic

4
60 psi @ 100° F
35° to 100°
Washers
0000000
000000

Zinc

4
60 psi @ 100° F
35° to 100°
Washers
0000000
00000

Zinc with TPR Rubber Coating

4
60 psi @ 100° F
35° to 100°
Washers, Support Brace
0000000
00000

Zinc with Plastic Coating

5
60 psi @ 100° F
35° to 100°
Washers, Support Brace, Mounting Hardware
0000000
00000

Brass

4
60 psi @ 100° F
35° to 100°
Washers
0000000
00000
Universal-Thread

Push-to-Connect

Tube Fittings for Air and Water


Male
Threads
with Gasket
Temperature

Range:

0° to 175° F

Tubing:

Use with firm

(Durometer

85A-100A)

nylon plastic or polyurethane rubber
Specifications

Met:

ISO 14743
Make lightweight connections without the hassle of matching the exact thread type—these fittings connect to NPT, NPTF, BSPP, BSPT, and other universal threads. With a nylon body and nickel-plated brass threads, these fittings are lighter than most metal fittings, and withstand corrosion better than plain brass threads. They also have a reusable gasket to guard against leaks. Connect the tube ends to tubing with a push, and an internal gripping ring and O-ring hold the tubing tight. To disconnect them, push the release ring and pull the tubing out of the fitting. These fittings are sometimes known as instant fittings. All meet ISO 14743, which is an international standard for push-to-connect fittings for plastic tubing.
For technical drawings and 3-D models, click on a part number.
Double Wye Adapter (Intermittent Swivel), Male Threaded Pipe × Tube

Double Wye Adapter
(Intermittent Swivel),
Male Threaded
Pipe ×
Tube

Male
Threads
with Gasket
Pipe
Size

For
Tube
OD
Pipe
Connection
Material
Tube
Connection
Material
Gasket
Material
Color
Material
Color
Maximum
Pressure

Pkg.




Qty.

Pkg.

BSPP,

BSPT,

NPT,

NPTF,

Universal Threads

1/8

4mm
Nickel-Plated Brass
Nylon Plastic
Buna-N Rubber
Black
Plastic
Black
250 psi @ 72° F
5
00000000
000000

1/8

6mm
Nickel-Plated Brass
Nylon Plastic
Buna-N Rubber
Black
Plastic
Black
250 psi @ 72° F
5
00000000
00000

1/4

4mm
Nickel-Plated Brass
Nylon Plastic
Buna-N Rubber
Black
Plastic
Black
250 psi @ 72° F
5
00000000
00000

1/4

6mm
Nickel-Plated Brass
Nylon Plastic
Buna-N Rubber
Black
Plastic
Black
250 psi @ 72° F
5
00000000
00000