Victor Oxyacetylene Welding and Cutting Kits
Weld and cut with one system. 400 series and TurboTorch kits can also be used with a heating nozzle (not included).
The optional flashback arresters for 400 series extinguish flames and have a check valve to stop reverse gas flow.
Victor Oxyacetylene Torch Components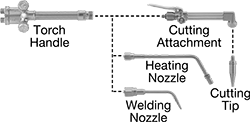 Create a torch or replace parts with our selection of handles, nozzles, cutting attachments, and cutting tips.

For
Manufacturer
Series
Manufacturer
Model
Number
For
Heating Nozzle
Model Number
For Welding
Nozzle
Series
For Cutting
Attachment
Model Number
Hose
Connection
Type
Gender
Thread
Type
Thread
Size
Gas
Fitting
Size
Includes
Each
400
WH411C
MFA
W
CA411-3, CA411-1
Threaded
Male
UNEF

9/16

"-18

B
Two Check Valves
00000000
0000000